Hardwood flooring is a healthy upgrade in Vienna, VA
Vienna, Virginia is a beautiful suburb of Washington D.C. that is a popular choice for families. Vienna is a town of leafy neighborhoods and unique shops, and homes range from stately townhouses to sprawling ranches and distinctive new constructions. Only 12 miles from the capital, Vienna has a small town feel, a strong sense of community and a great school system. Home remodeling projects include historic restorations and backyard improvements and additions. Vienna, VA homeowners are also adding value to their homes by installing genuine, pre-finished hardwood flooring.
Healthy hardwood
If there's old carpeting in your home, there are a lot of reasons to replace it with hardwood flooring. Carpet loses its luster over time, and can become worn or stained. It can also be home to dust, mites, mold, lead, allergens, particle pollution and pet dander. Ripping out old carpet will literally give your home a breath of fresh air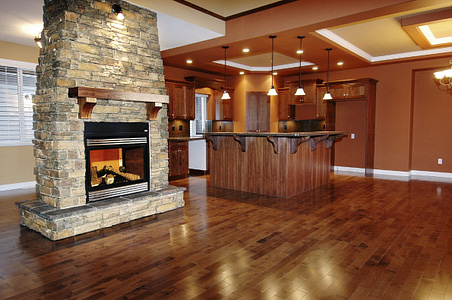 Remove old flooring
Your professional contractor will remove all carpeting and tile that's being replaced. They'll slice up the carpet and pad, and remove it, and also get rid of the tack strips around the edges of the room. If carpeting has been glued to concrete floors, a scraper will be used to get them off. All old carpeting and tile will be properly disposed of by your contractor.
Install new hardwood floors
Pre-finished hardwood flooring means a lot less mess, and installation is a much faster process. Traditional hardwood floors need to be sanded, stained and polyurethaned on your premises. When you choose pre-finished hardwood floors, all that takes place at the factory. Your home remodeling contractor will then remove or prep the sub-floor and install your hardwoods. Hardwood floors make a dramatic difference in the quality of your home in very little time.
The charm of a Vienna, VA home is only enhanced when you replace worn carpet or tile with gorgeous, pre-finished hardwood flooring. Your contractor will give you a wide choice of woods so you can pick one that's perfect for your home. Hardwood flooring is easy to keep clean and is a healthy choice for those with allergies or any other respiratory problems. The timeless beauty of hardwood floors is a wonderful upgrade to a Vienna home.
The Complete Remodeling Package
With any home remodeling project at Daniels Design and Remodeling, you get all the benefits and perks below.
 Architectural Design
 Construction
 Project Management
At Daniels Design and Remodeling, our seasoned team takes great pride in ensuring your project goes as planned. Specializing in Kitchens, Bathrooms, Living Spaces, Porches and Patios, and Home additions since 1997, you can be sure that we will keep your project on time, on budget, and built to last, so you can enjoy it for years to come.