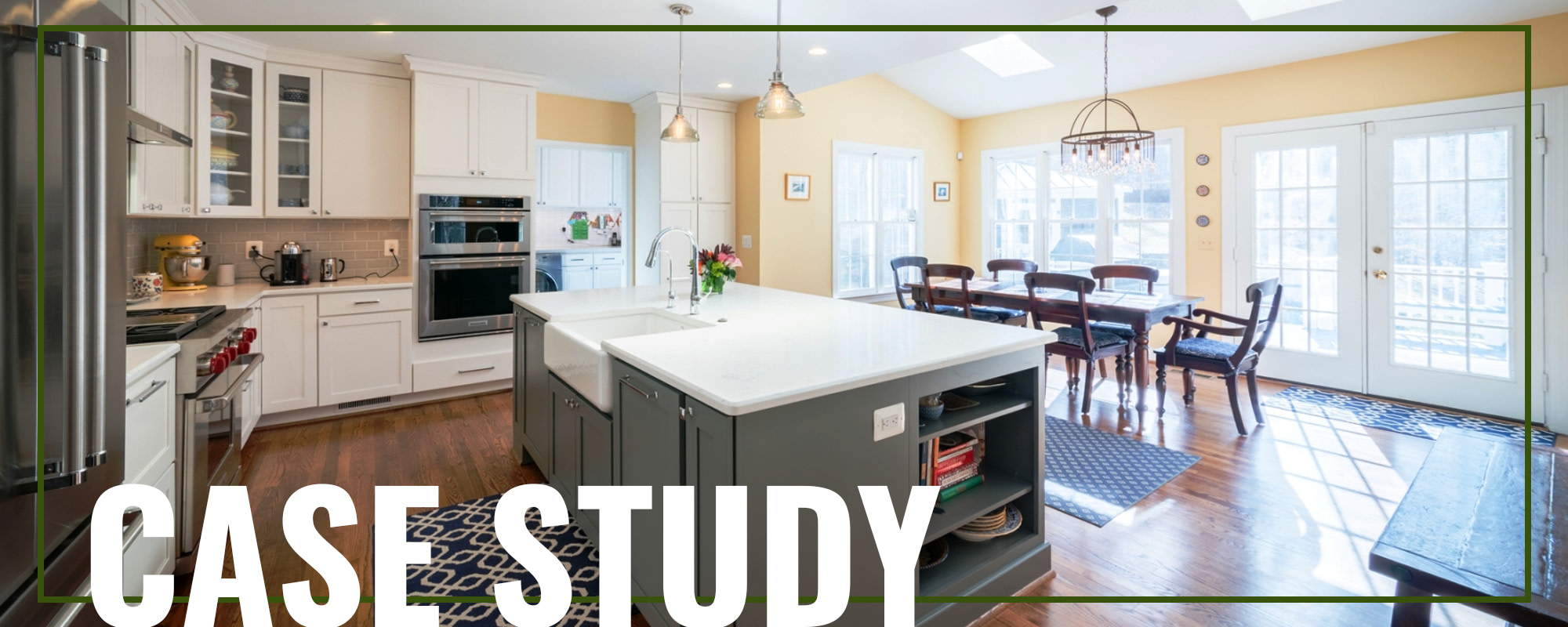 The Williams family was looking for a more functional and contemporary kitchen. Their former kitchen offered little in terms of ergonomic flow; existing access into the home through the laundry room left much to be desired, as the natural pathway fed directly into the kitchen's work area, effectively any disrupting cooking activity. Likewise, the partial wing and small island created cramped passageways and an uninviting energy throughout the kitchen.
The heart of our kitchen-remodel strategy was to create a quartz center island that provided plenty of room for the chef, family, and friends to gather during both cooking and dining. The quartz center island became the focal point of the kitchen, revamping an area that was once crowded and disruptive into a gracious and welcoming space for gathering. Our kitchen remodeling team offered a beautifully enhanced bright kitchen that blends traditional and modern styles. The Williams were left with a kitchen that represents the perfect marriage of function and style.
Concept
The proposed design included a plan to widen the laundry room without significantly reducing the kitchen. Accomplishing this would funnel traffic to the island's social side. Additionally, our team removed the wing wall to allow a larger island. A new, resized beam was installed to afford better communication within the new space. This also presented a challenge; because of an insufficient beam between kitchen and dining areas, coupled with the removed wing wall, we needed to replace the undersized beam with a larger upset beam. Because there was a recently renovated master bath directly above this space, our team was especially mindful in accomplishing the task without disturbing the new tile work. Additionally, we increased the quantity of recessed lighting the space to improve the general light level, while adding LED under-cabinet lighting for countertop task lighting, among our installing of other light fixtures.
We chose white maint cabinets and countertops in order to reflect light entering from the adjacent dining area. Removing the structural wall also improved the lighting of the kitchen. We were proud to leave this Clifton family with a significantly more accommodating and modern kitchen. They are so pleased with the redesign that their kitchen has become the most used space in the house!
Kohler cast iron sink

Wellborn white MDF cabinets

Gray/green watercolor, glazed subway tile back-splash

Wolf range

Quartz counter-tops

LED under-cabinet lighting
Click and drag the arrow to reveal the before and after images