In a formerly unattractive Fairfax commercial restroom, we had the opportunity to showcase a range of improvements and additions to bring about a distinguished bathroom renovation. What was once dated and dingy with small blue tiles, uneven flooring, old fixtures, and laminate countertops were brought to life with a bright, modern approach to a commercial restroom. The outcome proved to be an ideal combination of function and professional charm.
Concept
We employed a contemporary approach to create a bright, open, and functional commercial space. With new LED lighting, upgraded fixtures, and a new focal point in a vanity wall, which featured floor-to-ceiling wall tile, the result proved to be a warm yet clean business-setting restroom. What's more, we improved the aesthetic of the restroom by removing the old, drop down ceiling, raising  it to 8′ 2″ high with 2×2 dimensional ceiling tiles and removing the corner chase, reworking it so water fountain plumbing was out of the way — increasing the overall utility of the bathroom. Finally, we replaced the unsightly industrial floor tile with dark charcoal, weathered Italian ceramic floor tiles to convey rustic and masculine tones. As always, Daniels Design & Remodeling used high-quality and sustainable products for this Fairfax commercial project.
HAPPY CLIENTS ~ We produced a distinguished bathroom renovation in a haggard, dark commercial space. Original bathroom was dingy and outdated with unattractive small blue tiles, old fixtures, uneven flooring and laminate counter-tops. Owners desired improved lighting, updated surfaces, hidden storage and new fixtures with a more open, modernized feel. We converted the dim bathroom space into a bright, contemporary concept with upgraded fixtures, storage and creative tile designs. We created a focal point in vanity wall, with floor to ceiling wall tile, extending the tile so that it is visible under the vanity shelf and finished off the vanity area with a quartz countertop and wall cap.
IMPROVED AESTHETIC ~ Our team removed old drop down ceiling and the 2×4 ceiling tiles that were installed at 7′ 9″ high and raised it to 8′ 2″ high with 2×2 dimensional ceiling tiles and removed corner chase, reworking so water fountain plumbing was out of the way – increasing overall utility of the bathroom. We created a more open visual by reduction of left side stem wall to a narrower knee wall and capped it with a matching, rich-looking quartz from the countertop detail. (We left a knee wall feature for the accent wall tile to end, which creates a clean transition; a simple yet eye-pleasing modification allows entry sight line onto vanity wall). By increasing the toilet partition dimensions to make them more accessible, we were able to hide drain view upon entry into the remodeled space.
LIGHTING IMPROVEMENTS ~ We enhanced aesthetics while simultaneously increasing energy efficiency of the lighting by: removing the 1′ x 4′ fluorescent light and installing a 2′ x 2′ LED ceiling fixture; replacing the 6-bulb incandescent vanity light with 2 decorative, pendant fixtures with LED bulbs; installing an LED accent light under the vanity, a LED task light inside the drawer and a motion switch to control all the lighting, thereby minimizing wasted energy.
COMPLEMENTARY DESIGN MATERIALS ~ We converted the unsightly, industrial floor tile into a more contemporary look with the dark charcoal, weathered iron looking Italian ceramic floor tile (12"x24" placed on a running bond pattern). The masculine and rustic wall tile, with its repetitive pattern of earthy/natural colors blends well with the dark leathered basket-weave look of the vanity accent tiles; both complement the softer white Cambria Brittanicca with its bold gray-veined countertops and edging. High quality and sustainable products are practical and dependable.
SAFETY 1ST ~ Safety needs were addressed by enlarging the stall dimensions, placing additional grab bars in the stall, adding a motion detection light switch control and increased lighting.
Click and drag the arrow to reveal the before and after images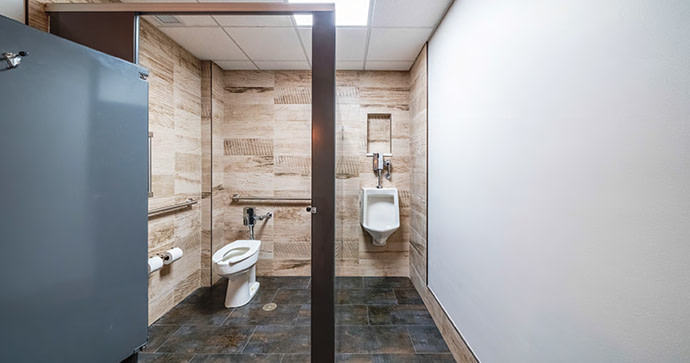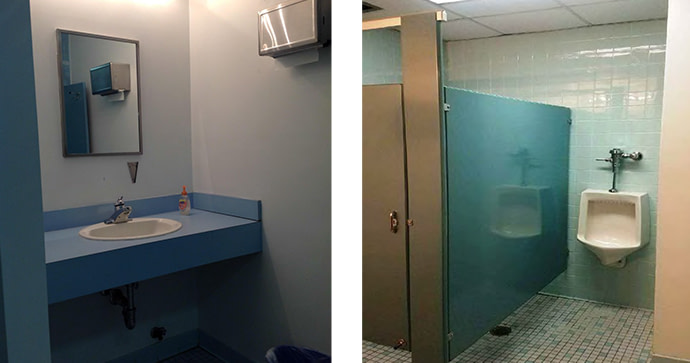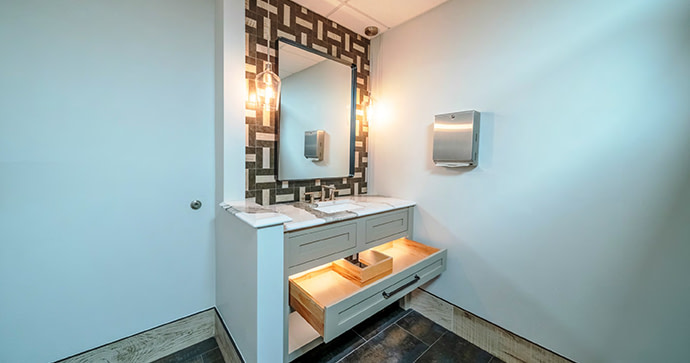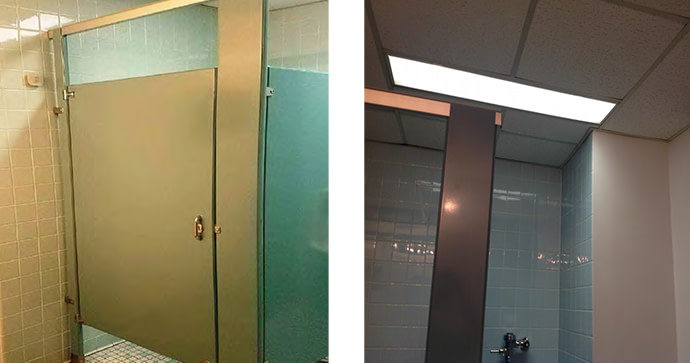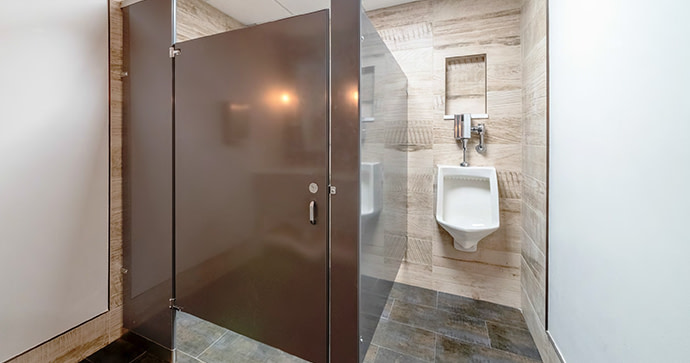 Additional Project Photos