Our clients wanted to improve their kitchen layout and function, brighten up the space and update cabinets and finishes. We re-purposed the existing nook, updated the kitchen with new cabinets, appliances, flooring, walls, finishes and fixtures; as well as re-worked the ceiling aesthetic. They love entertaining and wanted more island seating for guests and to seamlessly use the adjoining gathering room as overflow kitchen table seating. We removed the eat-in kitchen seating in order to add a functional wall and to convert the existing nook to a convenient Butler's Pantry/Scullery storage location; small appliances are readily available now on counters, dog food and bowls reside in custom cabinets, ice maker and beverage coolers are easily accessible, yet not visible from within kitchen. Our timeless design delivered a restructured kitchen using updated design elements, storage options and a streamlined circulation, while enhancing the visual connection within the workspace.
This kitchen won a Regional Contractor of The Year Award (CotY) Click Here To Learn More!
Concept
Clients desired a clean, open kitchen with a separate 'Scullery' to allow cooking utility and normal clutter be easily accessible yet out of view from main kitchen. (The mom's favorite aspect of her newly remodeled kitchen is the Scullery!)  Symmetrical design lines up the center of sink with center of metal hood in the main kitchen. Coffered ceiling provides interest, elevates design and adds a nod to traditional style. This element contrasts with adjacent oversized, modern stained wood-casing that frames opening between kitchen, gathering room and hall, which creates a dramatic transition between the spaces. Also, by opening previously small doorways, we created a more welcoming feel overall.
Cambria quartz countertops provide durable and stain resistant work surfaces. High gloss artisan ceramic subway tile backsplash provides a wipe-able surface and reflects light into the space. The cabinets are durable construction and easily cleaned. The warmth of the stained wood island provides texture contrasting with the crisp white color of the balance of the cabinets. The high gloss ceramic tile and light color of countertops reflect light throughout the space. The veining in the countertops provided continuity with the stained wood color and pull the palette together.
Click and drag the arrow to reveal the before and after images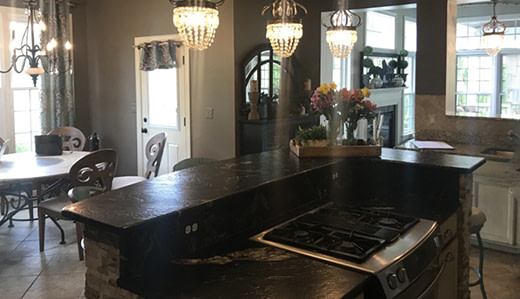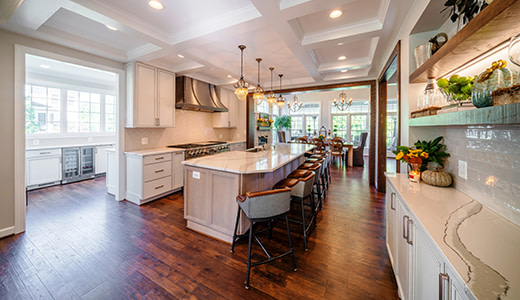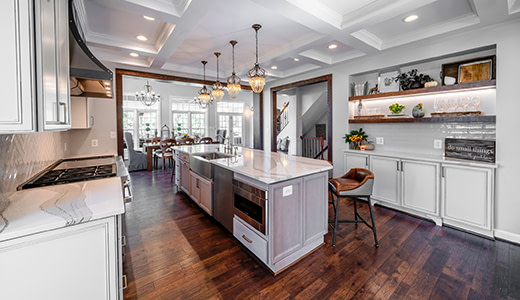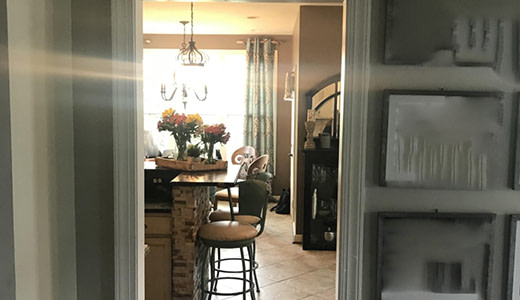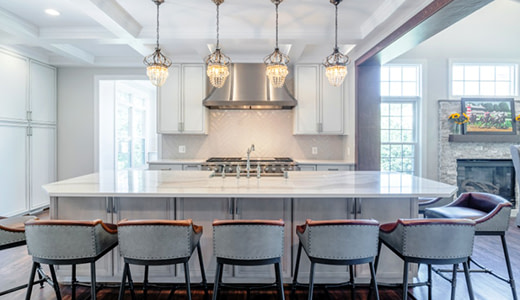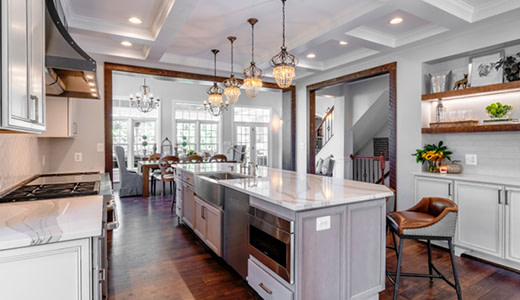 Additional Project Photos