2023 Home Remodeling Trends – Get Inspired
Every year, we collect our favorite home remodeling ideas, designs and materials to inspire our design team and show our clients what's possible. From the latest kitchen remodel trends to exciting new ideas for remodeling your basement, creativity starts with inspiration.
Let our designers bring your vision to life. Start your remodeling journey today; schedule a conversation with Daniels Design & Remodeling.
The Top Remodeling Trends of 2023, Project-by-Project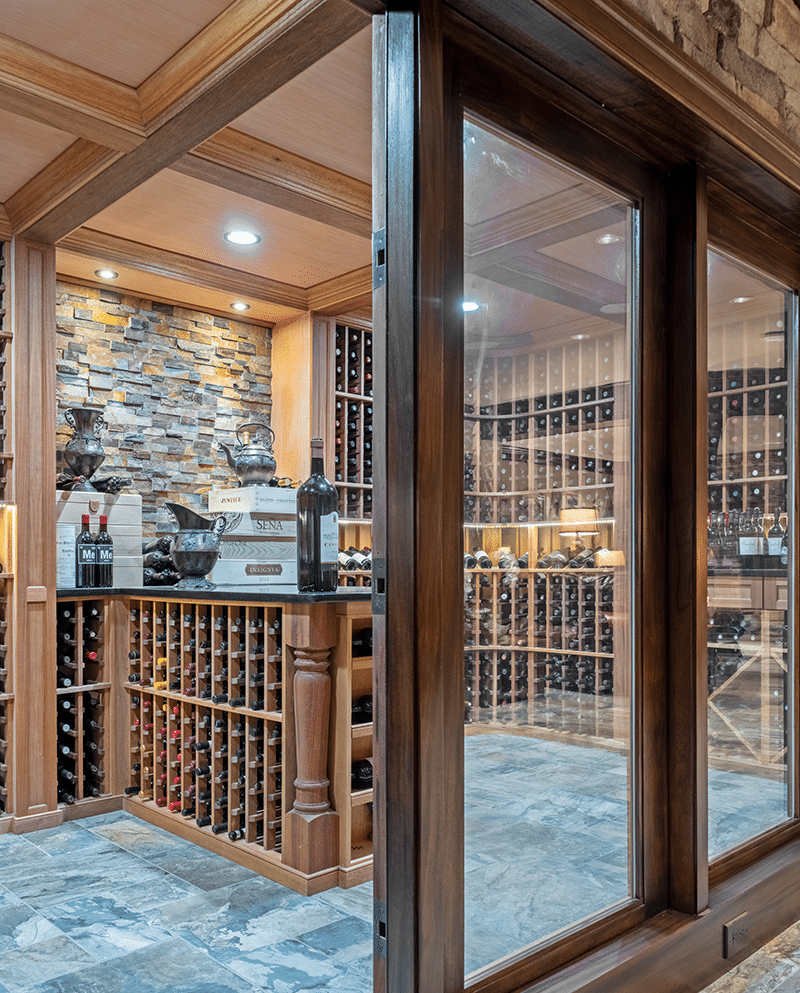 Creating Quiet Spaces
Open floor plans are popular both upstairs and in the basement, but persistent high rates of remote and hybrid work mean quiet spaces within the home remain exceedingly useful. We continue to see basement remodeling projects focus on building a distraction-free zone to work, read and get things done. Even homes without a basement can benefit from creating a home office!
Basement Remodeling Trends 2023
For decades, basements were left unfinished and primarily treated as afterthoughts as remodeling priorities. Over the past 20 years or so, we've noticed a shift in how families use and reshape this valuable living space. Make your basement remodeling project purpose-first and add value to your home at the same time!
Everything Is a Walk Out (Or Up)
Walkout basements are an emerging basement remodeling trend driven partly by the rise of short-term rentals. While traditional walkout basements require at least one section of the home's below-grade wall to be exposed, homeowners are getting creative. Homeowners are excavating ground next to the house, adding stairs and creating a "walk up" to add direct access to the basement level of the home. It's a smart option for those earning additional income with short-term rental platforms like Airbnb or VRBO. Other homeowners simply enjoy the benefit of having another convenient entry point.
Building a Basement Apartment
For property owners investing in a short-term rental business, the redesign often includes adding a bathroom, kitchenette and other amenities that ultimately make their home's lower level a full-fledged apartment. It's not just for income, either. A growing share of adult children are moving back in with their parents after college and later in life, largely to save money. (Maybe just don't let them get too comfortable.)  
Jokes aside, there's been a long-term trend toward multigenerational households. Between 1971 and 2021, the number of multigenerational households has quadrupled. This is largely attributable to housing expenses or caregiving. Creating private spaces within the home can reduce stress and make these living arrangement more comfortable for everyone.
A Place to Entertain
One of the positive aspects of the post-pandemic world is a renewed enthusiasm for bringing people together. That has shifted basement remodeling design ideas to accommodate friend and family gatherings. In addition to versatile open floor plans, many Northern Virginia families are also looking to move the party must-haves to the basement. From custom basement bars to refrigerators to flexible seating arrangements, basements are now a place to spend time, not store boxes. 
These are just a few ideas for remodeling your basement; check out all our work for more inspiration!
Bathroom Remodeling Trends 2023
Peace, privacy and luxury. Those are three excellent reasons to remodel your bathroom to meet your changing needs. Like many other types of projects, the latest trends in bathroom remodeling are shaped by some of the most pressing issues of the day – sustainability.
Natural Bathroom Materials
Interest in sustainable, natural bathroom materials increases every year. More homeowners are prioritizing sustainability as a core component of their remodeling projects, and that doesn't stop at the bathroom door. We're sourcing and installing natural and, when possible, local materials like stone, wood and handmade tiles. We're also working with reclaimed and recycled materials to build vanities, cabinets and flooring. 
A Splash of Color
Color is coming back to the bathroom! Adding a bold, non-traditional sink is an excellent option for any home and is even more impactful in small bathrooms. Using eye-catching colors reorients occupants and creates a new center of gravity. 
Terrazzo Tiles
A mainstay in residential construction throughout the 60s and 70s, terrazzo tile is making a big comeback. This fun, throwback style is typically a pre-cast composite made from marble, quartz, granite and other materials. Colors and tile dimensions vary, making it a stylish option that can be tailored to your unique tastes. 
We're just getting started! See more bathroom remodeling ideas and trends in our gallery!
Interior lighting is an underrepresented design element in any home remodel. Excellent design and proper lighting can make any room more inviting. New interior lighting trends are pushing fixtures a little closer to center stage; here are a few of our favorites!
Stunning and Sustainable
LED bulbs are available in an ever-growing array of wattages, colors and other options. LEDs use sustainably less energy than incandescent bulbs, lowering your home's carbon footprint. The emphasis on sustainable materials we've noted before also includes light fixtures. We're sourcing kitchen, dining room and living room lighting fixtures made from recycled and natural materials that are simply beautiful, too. 
Natural Lighting for Mental Health
One of the hottest interior lighting trends of 2023 is natural. There's ample evidence that regular exposure to natural light improves mood and productivity. Add more natural light to the space you spend the most time with larger windows designed to capture sunlight throughout the day. 
Learn more about the benefits of natural light in your home.
Kitchen Remodeling Trends
The latest kitchen remodel trends are all about bringing people together. As the home renovation project with the highest average return on investment, our team has plenty of experience in designing kitchens that use space efficiently and make entertaining easy.
Get Smart
Technology is meant to make life easier, and who doesn't need an extra hand in the kitchen? Smart appliances and devices are designed to make preparing food and entertaining less stressful. We often include touchless faucets and voice-activated ovens as a part of our comprehensive kitchen remodeling designs to make every space more efficient!
Kitchen Islands Are Getting Bigger
Kitchens are the hub of the home and one of the few places where families come together these days. That's led many kitchen designers to reemphasize the kitchen island as the anchor of the room. Expect to see substantially larger kitchen islands with ample seating. The idea is to create a place to linger and connect instead of migrating to the dining room. Just make sure more island surface area doesn't lead to more clutter.
Functional Pantries
Also known as butler's pantries, functional pantries provide additional food storage, plus other benefits. Use the discreet space for food prep, a hidden coffee bar, or a dedicated spot for countertop appliances like pressure cookers and air fryers. Design your functional pantry to blend seamlessly with your cabinetry to hide the added space – or remove the door altogether to keep it open and easily accessible! 
Get more kitchen remodeling ideas and plan your project with us! 
Home Addition and Home Renovation Trends for 2023
Substantial renovation is a big project – and a big opportunity. A home addition or multi-room renovation combines the priorities homeowners have for different spaces and influences where family members spend their time. These home remodeling trends should help homeowners conceptualize how their remodel with change usage patterns and best meet their goals. 
Connecting Indoor and Outdoor Entertaining
Outdoor entertaining was common during the pandemic, but this necessity has become a luxury and a priority for many home remodeling projects. Expanding or enhancing decks, patios and sunrooms to serve as a seamless extension of the kitchen or living room increases the functional space of your home. Especially in beautiful Northern Virginia, indoor and outdoor entertaining is a natural and causal way to entertain large groups without feeling cramped. 
Remodeling for the Long Haul
The number of Americans aged 65 and older is expected to double by 2040. Aging-in-place design, or universal design, is a remodeling philosophy emphasizing safety, accessibility and simplicity to help seniors remain in their homes as long as they wish. Many of our clients are making those changes now by adding bedrooms and bathrooms to the ground floor, lowering cabinets, and other accessibility solutions. 
Create space to grow with an experienced design team. 
Beyond the Remodeling Trends
The latest remodeling trends aren't for everyone. Instead, we like to use trends as sources of inspiration or as starting points in creating the perfect space for our clients. Our award-winning process is designed to blend concept, priorities and your existing home layout for the best possible outcome. Start your home remodeling project with Daniels Design & Remodeling; schedule a conversation today.