Green Remodeling
It is our commitment to your family to design and remodel your home in a way that respects the environment through improved energy and water efficiency, building with sustainable materials and reducing maintenance concerns. With Daniels Design and Remodeling, you can rest assured that your remodeling project is in line with your shade of green.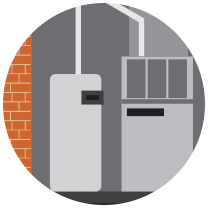 Energy Efficient HVAC and Appliances
New insulation technologies, such as spray-in cellulose insulation, is made from 80 percent post-consumer, recycled newspaper and will effectively seal homes from harsh heat and cold. Examining the existing structure and performing various energy audits can pinpoint heating and cooling losses. We can help you choose the right combination of insulation and an energy-saving HVAC system, appliances and lighting to reduce your energy costs.
Reducing Water Consumption
Selecting the right fixtures and appliances, such as water-conserving washers, dryers and dishwashers, and installing low-flush toilets and shower heads, can reduce the amount of water needed and help trim your water bills.  Did you know that approximately 8,000 gallons of water per household each year are lost while waiting for hot water to come from the tap? Positioning a home's water heater as close as possible to the points of use for hot water will help conserve this valuable resource.  
Healthy Indoor Air
Air-tight homes are critical to energy efficiency. We can recommend various types of fresh air filtering systems to exhaust the stale indoor air and bring in fresh air, conserving energy. Modern building materials, such as construction adhesives, paints and treated woods, can have toxic VOCs (Volatile Organic Compounds) that adversely affect indoor air quality. Today, there are new non-toxic materials that will improve the overall health of your home.  
Sustainable Materials
We can reduce the environmental impact by choosing flooring and countertop materials made from local or regional sources. There are many products on the market today that are either made of recycled materials or produced in an eco-friendly way. "Green" surfaces, such as reclaimed hardwood, bamboo flooring and recycled glass countertops, leave a lighter footprint on the environment.  
Recycle Construction Waste
We can recycle as much project waste as possible during a home renovation project. For example, we can bring four waste containers to a project site — for paper, metal, wood and concrete — in an effort to recycle more efficiently.