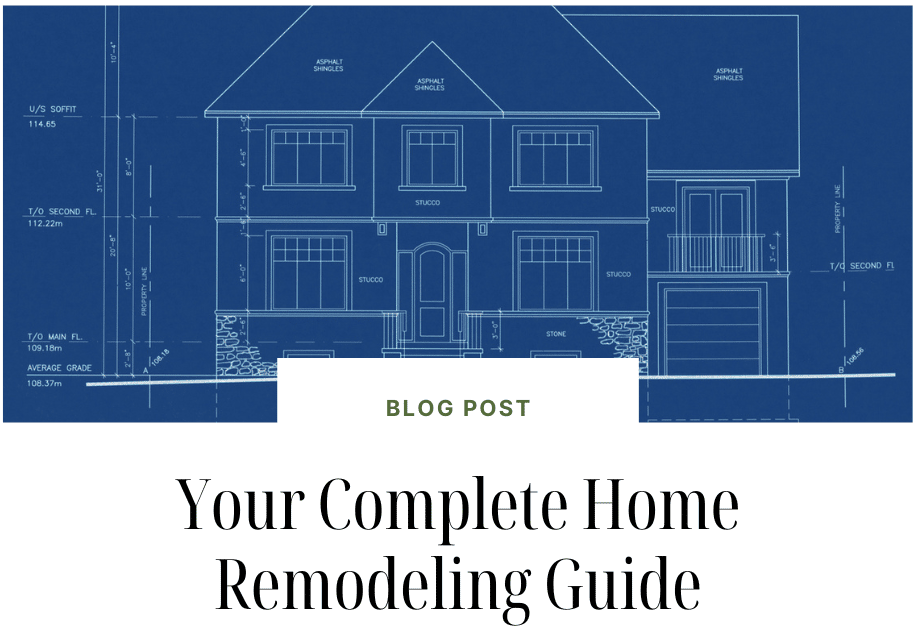 A complete home remodel is more than a financial investment. It also requires your time, attention and energy. It's important to know what you're getting into and consider all the decisions you'll need to make to get the project started. Even if your full home renovation project isn't with Daniels Design and Remodeling, we want you to feel empowered as you start the process—not overwhelmed.
Getting Started with Your Full House Remodel
A complete home renovation is no small task. Smaller projects involve fewer contractors, less time and a smaller footprint on your daily life.
Planning your remodeling project should include real-world variables, such as:
Financing your project
Timing your project to balance convenience and contractor availability
How much input you will have day-to-day
The project's impact on home resale value
These are just a few topics that we discuss with clients at our first meeting. Start a conversation with Daniels Design and Remodeling to get started today.
Financing Your Total House Remodel
Long-term saving and budgeting can often cover a portion of expenses, but most homeowners explore financing options. Renovating homeowners have many options, including using home equity or exploring a second mortgage. These loans vary but usually offer single-digit interest rates.
A home equity line of credit, or HELOC, is a flexible option when it's time to remodel your entire house. HELOCs allow homeowners to borrow against their home equity, which is the home's total value minus the amount still owed on the property.
Timing Is Everything
The time it takes to remodel an entire house varies, even when working with a reliable and dedicated contractor. While contractor availability will impact your options, don't forget to prioritize things that matter to you. Avoid scheduling remodeling projects when you know you'll be entertaining friends and family, traveling for work and unable to communicate with contractors or needing to be home without interruption, such as after an operation.
As you contact remodeling companies, ask these questions about the timeline of your total house remodel:
When is the soonest you could start on-site renovation?
Do you offer off-season discounts?
How far out are you currently scheduling projects?
What are the best-case and worst-case time estimates to complete the project?
What are the material or supply shortages that could delay project completion?
Communication Is Key
Daniels Design and Remodeling excels at putting essential decisions in front of homeowners early in the process to reduce the need for constant communication. Even with excellent planning, some decisions will still need to be made and could affect the pace of work at the job site. We recommend establishing one point of contact in your household to handle communication with your contractor or project manager. This reduces lag time and keeps your project on schedule.
Communication goes both ways. Ask your contractor how accessible they will be to answer questions. Both parties benefit from establishing a unified, open line of communication.
Investing for the Future
Deciding on a total home remodel is an investment to improve the form and function of your property in the near term but can also substantially increase your home resale value in the future.
Most real estate experts and financial institutions use a formula known as the After Renovation Value, or ARV. The ARV accounts for the total cost of your project and the value of your home once renovations are complete. The average ROI on most home renovations is roughly 70%, which means you won't recoup the costs of the upgrades right away.
Related: Home Remodeling ROI: A Room-by-Room Guide
The ARV formula works like this:
Estimated home value + (70% x Cost of Renovations) = After Renovation Value
Many other factors influence your home's value, including:
Location
Square footage
Most recent purchase price
Supply and demand
Interest rates
What to Expect from a Complete Home Remodel with Daniels Design & Remodeling
Every home and every project is different. We can promise expected timelines and completion dates, though our work involves plenty of variables. Along the way, we can answer all your home renovation questions based on more than 20 years of experience and our customer-first philosophy.
How long from first contact to the first meeting?
When you contact us, our team will reach out to help you prepare for a meeting at your convenience. Our first meeting with clients usually takes place within two weeks. Your first meeting is non-committal and no contracts are signed until after our feasibility study.
How long until you start work once plans are in place?
We provide our best estimates on timeline and completion based on real-time information. Factors include team availability, product availability and our customers' needs.
When I work with Daniels, who will I communicate with?
Our clients' main point of contact is their dedicated project manager. Throughout the planning and renovation, you'll also get insight from our designers, architects and more! We're proud of the experienced and creative professionals we bring to every project.
Start Your Home Renovation Project
The best time to start a home remodel is when you're ready. When the time is right for you and your family, start the home renovation process with Daniels Design and Remodeling. We'll answer your questions, ask a few of our own and work with you to bring your dream home to life. Schedule a conversation with us today.