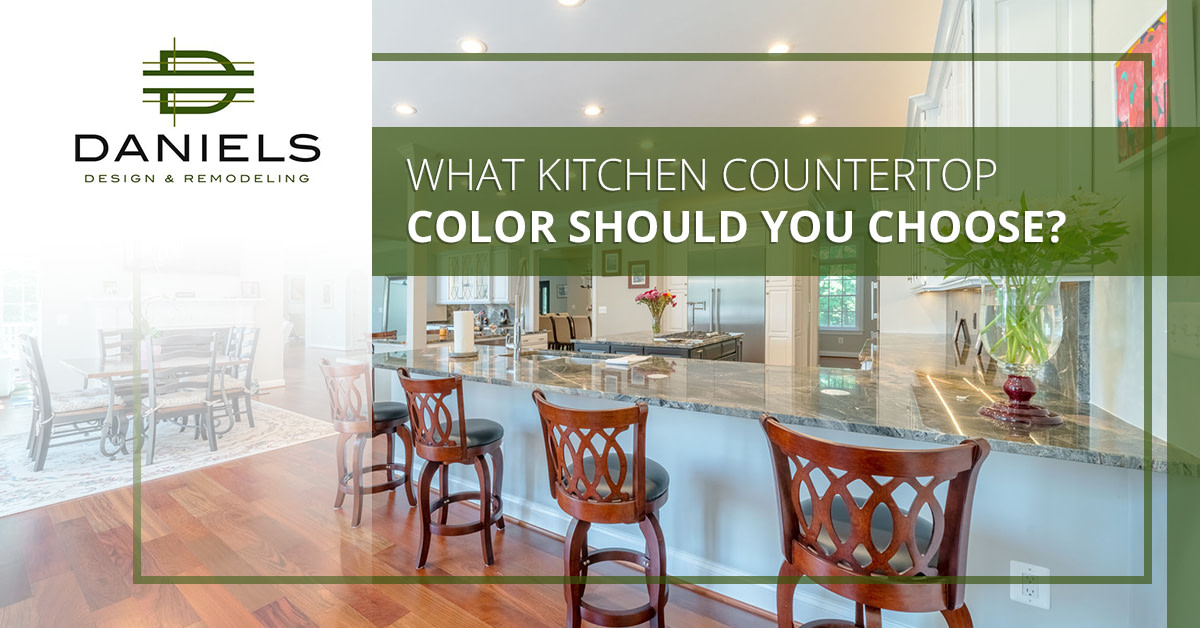 Now that you've decided to invest in a kitchen remodel and you've hired a top-rated kitchen and bathroom remodeling contractor, such as Daniels Design & Remodeling in Fairfax, all you have to do is finalize the design and the details. One of those details is deciding what color your kitchen countertop should be.
Daniels Design & Remodeling serves all of Northern Virginia, including Fairfax, with the best kitchen and bathroom remodeling and design services. Our expert team consists of designers, masons, tradesmen, carpenters, production specialists, and more who collaborate to bring you the kitchen of your dreams. We understand how important the kitchen is to your home, so you want a custom kitchen design that will not only fit your space, but also be functional and beautiful. Our design build firm has over 25 years of experience helping homeowners turn their homes into something that will suit them better. When you partner with us, you'll be getting an extraordinary team that uses creativity and proven methods to get results. Below, we'll offer some tips on how to choose the right kitchen countertop for you. Contact our kitchen remodeling company to schedule a conversation today!


Decide on Your Kitchen Countertop Material
There are so many choices now for kitchen countertops that it can be dizzying (which is another reason to partner with a professional kitchen remodeling contractor who knows ALL of your options). These include granite, marble, tile, woods, concrete, glass, ceramic, quartz, soapstone, stainless steel, porcelain, and so many more. By deciding on which material you want your kitchen countertop to be, you'll narrow down the color options significantly.
Consider a Timeless Color
Many people want to be bold and original, so they think their kitchen countertop is the place to be so. While our kitchen designers at Daniels Design & Remodeling have nothing against bold and original (in fact, we create custom kitchens so you can have a unique feel and vibe), since kitchen countertops are one of the more expensive items you will be adding, you want to make sure that they look just as good in 20 years as they do now. If you choose a bold color because you want to offset the golden yellow, for example, you've chosen for your walls, keep in mind that you could paint your walls in the future, making your kitchen countertops not look quite as good, which may then date your kitchen. Instead, consider a kitchen countertop with a timeless color or one with veins of other colors that will always look good.
Consider the Play on Colors
As most of us know, certain colors just go better together than others. For example, you really don't want to wear a bright orange shirt with red pants. Instead, you want a bright orange shirt with a more neutral color, such as a nice pair of brown pants to wash out the other tone a smidge. These undertones are important to consider when choosing a color for your kitchen countertops. For instance, if you have cherry kitchen cabinets, you'll need to choose wisely your kitchen countertop color so that it doesn't appear pink or bright red. Thus, you wouldn't want to have blue or green countertops. Instead, choose a more neutral color for your kitchen countertops with specks of color or veins to add vitality to your space.
See If You Can Bring Home a Sample
Just like you bring home samples of paint to try in your home, it's a good idea to bring home samples of kitchen countertop colors you are thinking about. This is a great reason to partner with a professional kitchen remodeling company, such as Daniels Design & Remodeling in Fairfax. Our designers have all of the samples that you need so you can truly get an idea of what that particular color will look like in your home. It's also good to have if you are choosing the colors of your kitchen flooring, cabinets, and paint. By being able to see the color in your home with its unique lighting, you'll be able to make the right choice.
Consider All of Your Other Kitchen Elements
Our last tip is to take a step back and consider your kitchen as a whole. We've already mentioned how you need to consider your kitchen countertops with regards to your cabinets and flooring. Once you've done that, you'll need to consider all of the elements and features in your kitchen, such as your kitchen backsplash, pictures on the walls, and even your centerpieces. We recommend that you choose one element with patterns and one that is solid. For instance, if you choose a solid-colored kitchen countertop, then you'll want to choose a patterned backsplash or window curtains. If you want a very sleek, modern, and minimalistic kitchen, then adding a little color and spice to your kitchen countertops is perfect.
CHOOSE DANIELS DESIGN & REMODELING IN NORTHERN VIRGINIA TODAY
Probably the biggest advantage to partnering with a kitchen remodeling company is the fact that they help homeowners remodel kitchens day-in and day-out. They know what looks good together and what does not. Their experience can help save you a lot of time and money if you happen to choose the wrong color of an item in your kitchen remodel and have to re-do/re-purchase it. Plus, it's great to be able to have someone to bounce ideas off, so you can be sure to have the perfect kitchen for you. Often, you may not know what is available for your kitchen remodel, and your professional kitchen designer can recommend a really useful feature that you adore.
Daniels Design & Remodeling has been helping Northern Virginia homeowners have the kitchen of their dreams since 1997. Our kitchen renovations have been making homeowners' lives easier and made cooking and hosting a breeze. We partner with you during every step of the kitchen design process to ensure your vision is coming to fruition.
We have a tried-and-true kitchen remodeling process that we use to ensure we cover everything, and we've broken it down into three steps.
Feasibility Study. The first step in our kitchen remodeling process is a feasibility study where we meet with you at your home. Here, we'll take a deep-dive into your reasons for a kitchen remodel and what you are hoping to see as the end result. Then we draw up three concepts for you to choose from.
Decide on your kitchen design. Once we've completed the preliminary drawings, you get to decide. Keep in mind that these are not finalized and they can be altered with your feedback. Once the decision has been made, the fun begins!
Construction! Our kitchen designers love this part of your Northern Virginia home remodeling service. Here, we get to see the design take shape, and what we love more is seeing your reaction to it. We handle the entire construction process from start to finish, from permitting to ordering the materials, and of course, construction. We will meet with you weekly to offer up progress reports and just to check in. Once your design build project is complete, we'll do a walk through to ensure you are 100% satisfied.
Daniels Design & Remodeling offers a two-year warranty on your kitchen renovation, so if you notice something little three months down the road, just give us a call.
If you are interested in our top-rated kitchen and bathroom remodeling services, schedule a conversation today!