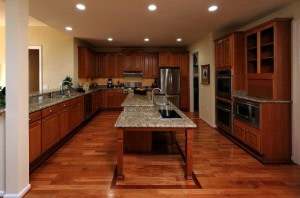 As more and more people are choosing to spend their entire lives in their homes it is important to create spaces that will serve you well into the future. That's where Universal Design comes in. Universal Design makes things easier, more convenient and safer for everyone, and it involve spaces that provide wheelchair access and can be used by a wide range of people of all abilities. We have some Universal Design tips to keep in mind when planning your next renovation.
Keep It On The Level
For total accessibility plan to keep everything on one level. Instead of large staircases, sunken living rooms or multi-level living spaces, everything is flat and flows from one room to another without obstructions. This ensures that if you are ever to become wheelchair bound your house is still accessible and livable for you. Also, make sure you use a non-slippery flooring material like cork for safety.
Let There Be Light
Installing automated lighting systems let you turn the lights on and off using a remote control. Whole house systems can also be programmed to turn on a group of lights at a certain time. Automated lighting makes it safer to enter and exit your home, and also makes it easy to turn lights on and off without having to get up.
Update The Shower
It's best to install a curbless shower. Daniels Design & Remodeling can go over all the design options to keep water from getting on the floor. You should also consider adding multiple shower heads, such as a rain shower overhead and hand held shower heads within easy reach. Remember to allow plenty of room outside the shower to get in and out, and to have towel racks and hooks within easy reach.
Open Wide
Design your home so that doorways, hallways and walkways are all wide enough to accommodate a wheelchair. Storage areas and closet also should be spaced accordingly.
When you're building or remodeling, it's smart to plan for all stages of life. Even if you are young and in excellent health, incorporating Universal Design features into your home will give you peace of mind should you decide on aging in place. Your home will be accessible to everyone and it will ensure you will be able to stay in your home no matter what life throws your way.