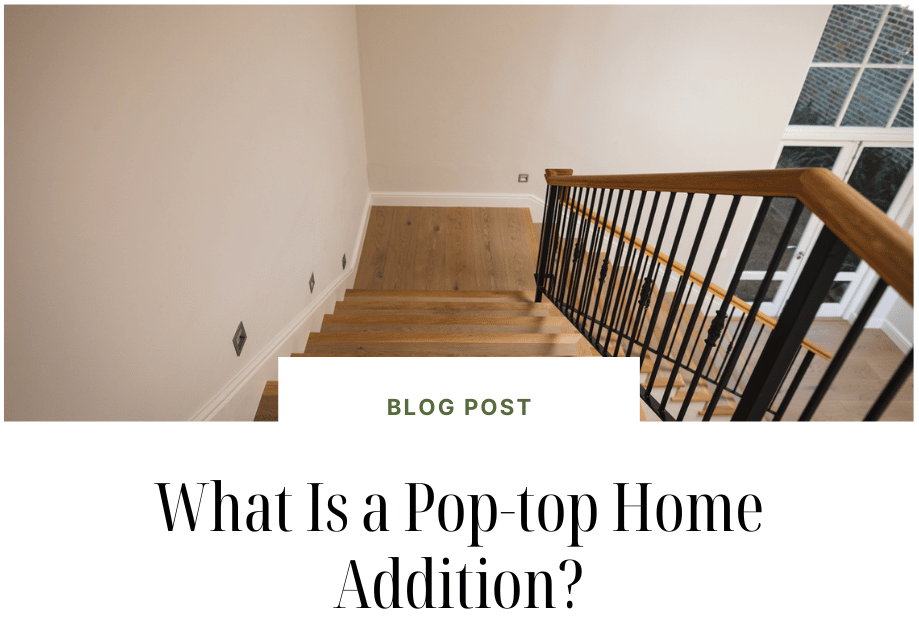 A pop-top home addition is any renovation project that involves an upstairs addition to a house. Whether expanding the square footage of an existing upper story to match the ground-level footprint or adding an upstairs to a ranch home, a pop-top addition is an excellent option for homeowners looking to create a larger home.
Pop-top renovations are popular with homeowners for financial and sentimental reasons.
4 Benefits of Building Up
Adding a second story (or expanding an existing one) solves some common problems for property owners who want to create square footage in their homes:
Allows you to keep your home's existing footprint. In urban and suburban environments, homes rarely have enough space to expand at ground level. Most municipalities have specific regulations on how close you can build to the property line or an easement. In many cases, homes are built quite close to these boundaries already. Pop-top additions don't expand your home's footprint, respecting property lines.
Saves your yard. Even if there's little space to build, expanding your home at the ground level takes up valuable outdoor space. Adding an upstairs preserves your beautiful lawn, garden or patio space so you can enjoy outdoor activities!
Saves you money. Building a foundation and framing the new space is some of the costliest elements of a home addition. The cost to pop a top on a house is usually less expensive per square foot because it doesn't require the construction of an expanded foundation and requires fewer building materials.
Keep Your Location! Investing in your current home also saves you from moving to a bigger home in a different neighborhood. Love living in Northern Virginia? Stay right here by adding the square footage you need at your current location.
We Make Pop-tops Seamless by Integrating Interior and Exterior Design
One of the critical elements in designing and building a pop-top renovation is seamless communication between the interior designer and the architect. One of the many benefits of working with Daniels Design & Remodeling is that our teams integrated and have finished detailed remodeling projects together for decades. This in-house collaboration breaks down communication barriers that negatively impact project outcomes.
Here's how each role impacts the design of your pop-top addition:
An interior designer thinks about the inside of your home and optimizes every inch to meet your needs, including the placement of stairs, doors, windows and hallways. Their mission is to naturally connect your home's interior to the new space.
An architect thinks from the outside in to make sure the home maintains curb appeal. The goal for an architect is to seamlessly blend the existing and new structures so that the addition looks seamless and not tacked on.
The two collaborate to account for every contingency, from meeting local roofline regulations to ensuring the existing structure is reinforced to support the pop top's additional weight.
Some of the challenges our designers and architects work to solve include:
Avoiding dead space
Using uniform materials to blend the new and old structures aesthetically
Accounting for structural needs like new staircases or exterior doors on the ground level
How Much Does It Cost to "Pop the Top" on a House?
The cost to complete a second-story addition varies based on the size of the addition, the materials used and factors like electrical and plumbing needs. Like all our home addition projects, we provide customers a personalized quote during our award-winning 3-Step Process.
Explore Your Pop-top Home Addition Options
For more than three decades, Daniels Design and Remodeling has helped Northern Virginia homeowners design and build pop-top home additions in Arlington and beyond. Working with our experienced team makes the remodeling process exciting, creative and rewarding. Invest in your home; let Daniels Design and Remodeling bring your dream to life; schedule a conversation today.