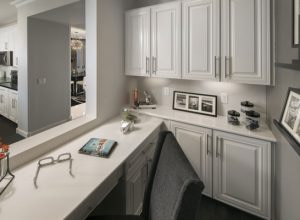 Many homeowners need a space in their home to get work done, but in the age of shrinking screens and streamlined equipment, an entire room dedicated to an office may not be necessary. That's where the Pocket Office comes in. These spaces can be as small as 16 square feet, but that could be all that you need to get tasks accomplished efficiently.
The Compact Office Trend
Today people carry their work around with them in their pockets, and the "work from anywhere" mentality has blurred the lines between home life and professional life. This makes a space to work at home a top priority. At the same time, people may not be willing to give up a lot of precious space. Pocket Offices are a hot trend in home building because people want to maximize the use of the square footage in their homes. Instead of using a spare bedroom as office space, homeowners would rather use it for family living space, or as a room for elderly parents or an adult child.
Where To Work
The beauty of pocket office is that it can be incorporated anywhere in the house. If you're doing a full renovation of your home, incorporate the Pocket Office into your layout based on how you like to work. For example, if you know you are going to need quiet, don't put the space off the kitchen. To create a Pocket Office in your existing home, consider converting a large closet, or use space that is under the stairs.
Form and Function
A pocket office should include a desk, and a built-in desk is a good choice to maximize your space. There should also be space for essential gear like a printer. Storage drawers, shelving, and power outlets also should be included. The compact office is the perfect spot to have a charging station for your devices, and a place to file important papers.

Mobile technology and the need to maximize the use of every inch of our homes are the two driving forces behind the Pocket Office trend. Call us today to talk to our designers at Daniels Design and Remodeling about how to fit a compact office into your home design.