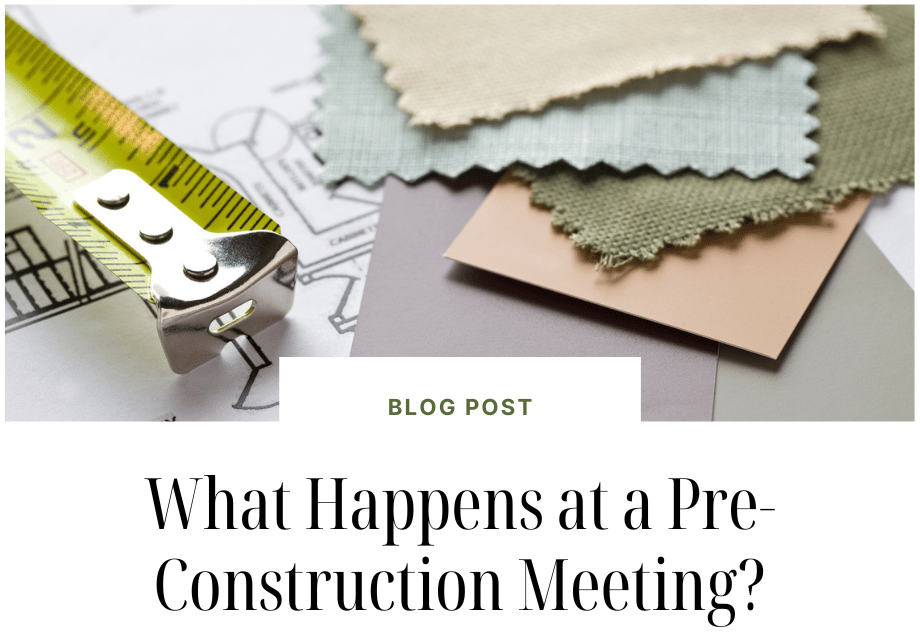 Communication is important for any home remodeling project. That's why we always include a pre-construction meeting as a part of our client experience.
Learn what to expect at a pre-construction meeting, what questions to ask and how it shapes the next steps of your project.
What Is a Pre-construction Meeting?
Pre-construction meetings, often abbreviated to pre-con meetings, are becoming customary in the remodeling and new-build construction industries. These meetings invite all stakeholders to come together to ask questions, share ideas and address missing information before the project breaks ground (or breaks down walls). Having a pre-construction meeting agenda is a time-efficient way to reduce miscommunication about project timelines, material choices and everything in between. The meeting is shaped by the results of your feasibility study – an in-depth look at your home that evaluates potential opportunities and limitations based on factors like floor plan, local regulations, materials and budget.
In short, the primary goal of the pre-construction meeting is to gather all the necessary information required to complete the project successfully.
What to Expect at a Pre-Construction Meeting with Daniels Design & Remodeling
Your pre-construction meeting with us will be efficient, informative and fun. We believe the home remodeling process should always be exciting for our clients – but never surprising!
The agenda of our pre-construction meetings are customized to every project, but they will usually look something like this:
Introductions – You'll meet your project manager, designer and craft team, and they'll get a chance to meet you!
Contract and Scope of Work – We'll review our established scope of work and set mutual expectations about when work will begin, how it will impact your living situation and when you can expect the project to be completed.
Feasibility Study Results – Your Daniels Design & Remodeling team will review your feasibility study's results. This will put a firm plan in place for our team to source construction materials and invite further feedback on remodeling elements before we start. Think of it as addressing the details!
Permits and Licensing – Daniels Design & Remodeling will also present the permits and other licenses necessary to complete the project. Our team will handle this process, but we'll keep you informed every step of the way.
Payment – We will review the renovation agreement and set dates on which payments are due before, during, and end of the project.
Expect additional agenda items as well as a list of questions from our team to ensure we meet your expectations and needs.
What Questions Should I Ask at a Pre-construction Meeting?
This is the time to ask any questions you might have before the project begins. These are some of the most common pre-construction questions asked by homeowners:
Can I make changes to my remodeling after the pre-construction meeting?
Yes, but changes may result in additional charges or delay the completion of the project. If you'd like to make a change after the pre-construction meeting, ask your team about product or material availability and the broader impact of work order changes.
When will work begin and end each day?
We'll work to accommodate your schedule as much as possible, but our team will work a full day to complete your remodeling project on time.
Where will the remodeling team park or store tools and materials?
We always attempt to reduce our impact on your home and property. Our craft team will work with you to seek adequate storage that helps us save time and stay on schedule.
Start Your Renovation Journey with Daniels Design & Remodeling
For more than 30 years, we've helped Northern Virginia families reimagine their homes. Create the space you need with a professional remodeling company that puts your experience first. See what we do differently. Schedule a conversation today.