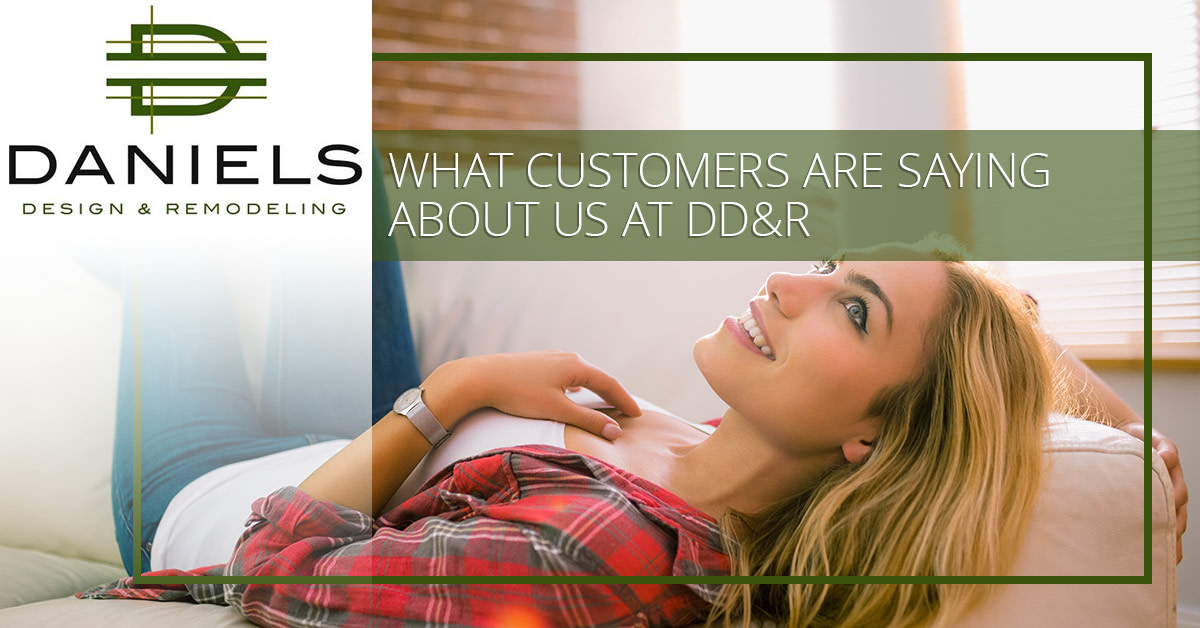 Since 1997, Daniels Design & Remodeling (DD&R) has been providing quality remodeling service to Northern Virginia and beyond. Over our 20+ years of experience, we grown to include a wide array of expertise in home renovations — from room additions to kitchen remodeling. Our cornerstone is premier "boutique" remodels, and our hallmark is going above and beyond the expectations of our customers. If you are looking for a Northern Virginia remodeling contractor with experience, craftsmanship, and a commitment to excellence in both process and results, we believe Daniels Design & Remodeling is a local remodeling company worthy of consideration.
Reputation
Irrespective of if you are in-market for a bathroom renovation, porch and patio facelift, kitchen renovation, or are looking into a home addition, there's no two ways about it; you want to find a reliable remodeling contractor who you can trust. The fact is, it's not always straightforward, finding the right kind of company. This is because most folks aren't enlisting the services of a company like ours more than once or twice a decade. In contrast to the vast majority of services and products we purchase, it's difficult to know you've got a high-quality remodeling contractor until you are already working with one!
Of course, there is always that handy trick called "asking your friends." But perhaps no one you know has had an outstanding experience. You want the best for the project you have in mind. Maybe still you have recently moved to the area and you know not a soul but you still want your master bathroom remodeled. That would be sad, but it happens.
Online Reviews
Luckily, the internet exists, as do online review agencies which aggregate and quantify a business' quality. Obviously, this is not news to the majority of our readers, seeing as this blog post is housed on a website.
But our point is this: offline or online, our reputation matters to us at Daniels Design & Remodeling. Not only because it's an important means of attracting folks who are in-market, but because it speaks to our 20+ years of doing things the right way. We are a Northern Virginia remodeling company that believes in doing right by our customers. In today's post, we'd like to take the opportunity to highlight what our customers are saying about us at DD&R.
Anytime we get the chance to do a bit of free marketing, especially free marketing provided by our satisfied customers, we'll take it!
"Nothing Less Than Spectacular"
"The onsite staff for DD&R could not have been more polite or professional. The craftsmanship required to remodel the stair railings from a colonial railing system to a stainless cable rail was nothing less than spectacular." – David D., Five Stars, Oakton, VA, GuildQuality
David, we very much appreciate you taking the time to let us (and others) know what kind of experience you had while working with us. Of particular interest was David's observation that our staff was both polite and professional while working in David's home. We make a point to be respectful, professional, courteous, and punctual when it comes to how we operate on our customer's premises.
"I Highly Recommend DD&R"
"Daniels Design & Remodeling did such a fantastic job on my kitchen remodel that I was able to get back my initial cost investment with the price I was able to sell my house for in a very short period of time. I highly recommend DD&R. Ted Daniels was very knowledgeable and easy to work with." – Lara T., Five Stars, Reno, Yelp
Lara, thank you for your kind words and business. We wanted to highlight this review because the remodel caused to Lara being able to recoup her investment in the kitchen remodeling project! It goes to show that whether you are planning on settling in your home for years or would like to increase its valuation before a move, a remodel might be the right move. Thanks again, Lara.
"Quite Pleased With The Results"
"Daniels Design & Remodeling, Inc. did an outstanding job of remodeling and updating our kitchen. Ted Daniel's crew covered every detail of planning, ensuring safety, dealing with subcontractors, fixing glitches, and trouble-shooting challenges. We've received numerous compliments on the workmanship and quality and were quite pleased with the results." John. E., Five Stars, Annandale, VA, GuildQuality
We decided to include this post for obvious reasons. John highlighted our commitment to attention to detail — arguably one of the most important qualities a remodeling contractor can have. John, we are so pleased to hear that you and your friends are thrilled with the workmanship and quality of your kitchen remodel from us at DD&R!
"They Stepped Up To Fix It"
"So happy that the owner of DD&R came to my home after all these years to fix a problem that was well past the warranty period. They completed their remodel back in June 2010 and when it had issues I complained and they stepped up to fix it. I would absolutely recommend DD&R for any of your remodeling needs." – Dominic P., Five Stars, Woodbridge, VA, Yelp
Sometimes things don't go perfectly. We have wonderful warranty options that cover when circumstances are less than ideal. More often than not, any minor issues that arise after a remodel will be covered by said warranty. In Dominic's case, however, this was an issue that cropped up well past the warranty had ended, as he explained. We want to be known as a local remodeling company that goes above and beyond the expectations of our customers, so we thought this review was a perfect example of exactly that! Thanks for your kind words, Dominic.
"A Unique And Customized Design For Your Remodeling Project"
"We are pleased with the overall experience with Daniels Design and Remodeling (DD&R). We decided to use a design/build contractor since we wanted more than just a general contractor. The innovative designs and professional advice from the design team met our expectations. The building team followed through on the desired design plans and when challenges occurred, they resolved the issues in a favorable and timely fashion. Overall, we are pleased with the result and we would recommend DDR to others looking for a unique and customized design for your remodeling project." – Michael F., Five Stars, Fairfax VA, GuildQuality
The final review we will highlight in today's post encapsulates what we want to be. Describers like "innovative" and "professional" are great, as is meeting the standards of our client. Michael, thank you for your business and taking the time to let others know what kind of Northern Virginia remodeling company we are.
Contact Us Today!
We don't think you should simply have to take the word of the remodeling company you are considering. That's why we wanted to let you read the experiences of real DD&R customers — we hope you've found them informative. And while online reviews are only one part of the big picture, they can be revealing. We are proud of our online reputation like we are proud of our workmanship and our dedication to pleasing our customers. If you are interested in finding a boutique architectural home remodeling firm worth its salt, schedule your conversation today! We'd love to hear from you.