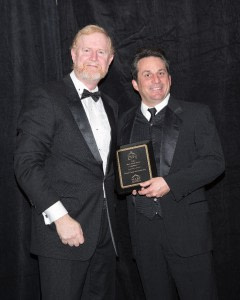 In a sea of contractors, what is one sure way to know you are dealing with the very best? The prestigious Contractor of the Year Award is given only to the very best contractors who are guaranteed to be superior to their competitors. Daniels Design and Remodeling is proud to announce that we have won the 2015 CotY award for the 9th year in a row, proving once again that we are the best contractor in the region.
Contractor of the Year, or CotY Awards are given by the National Association of the Remodeling Industry (NARI) to members who demonstrate outstanding work through their remodeling projects. NARI is an organization that represents the best in the business, high quality home remodeling professionals who are committed to the highest standards. Members are also committed to integrity, and to keeping up with the cutting edge with continuing professional education.
The NARI certification process involves intensive screening and testing. In fact, NARI Certified Professionals must pass a comprehensive yearly exam in their areas of expertise in order to be certified. These contractors demonstrate a strong commitment to their industry, and are full time, experienced and dedicated remodeling professionals. CotY Awards winners are chosen from this pool of skilled remodelers.
When a homeowner hires a NARI Certified Professional, you are getting a trusted, qualified business owner who will get the job done right. NARI members like Daniel's Design and Remodeling voluntarily follow NARI's strict Code of Ethics and Standards of Practice. These standards include carrying all required licenses and insurance, holding themselves to the highest industry standards, staying in touch with the latest information in the industry, and being committed to enhancing the professionalism of the remodeling industry.
To be chosen for a CotY Award from this group of professionals is truly an honor. Winners represent the highest standard in the industry, and Daniels Design and Remodeling has again been recognized for their excellence. Call us today to start planning your next remodeling project with a winner of the CotY Award for the 9th year in a row. We are honored to be the best of the best!