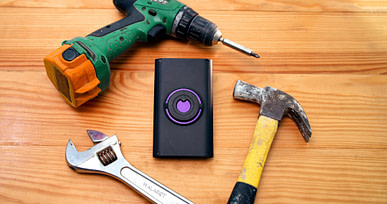 Daniels Design and Remodeling is excited to let you know about a cool new tool we're using called the Walabot. This high tech wonder is a 3D imaging sensor that literally lets us see through walls. It reveals the hidden world that is all around us but we can't see. The Walabot DIY is a huge help in the planning stage of your Northern Virginia home renovation project. When you choose our team, the Site Study part of the process is very important. Using the Walabot will help our Architect, Estimator, and Builders know exactly what is going on behind your walls.
Walbot DIY
This brand new technology attaches to an Android phone to look inside your walls. It has multiple sensing modes and adjustable sensitivity, so you can get the exact calibrations needed for your project. It shows you the studs, detects wires and pipes, and even detects movement inside your walls. It's a very exciting breakthrough that has been in the works since July of 2014. That's when the concept of creating a device that let users see through solid objects using advanced imaging technologies.
Our Site Study
The Daniels Design and Remodeling team starts every project with a Site Study and a home visit. This is when everyone involved in the project comes to your home for an on-site evaluation. We take measurements, use thermal imaging tools, and all the available details about your home. Looking inside your walls with the Walabot DIY during this phase is a great way to provide the most accurate calculations.
Walbot DIY also takes a snap shot of the inside of your walls, so our team can take it with us for further analysis. We are excited about this new tool that will let us provide more accurate estimates and efficient calculations. Daniels Design and Technology is always looking for new ways to solve problems and meet challenges. The Walabot DIY is a great addition to our suite of tools and technology to help serve our customers better.