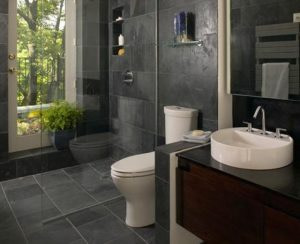 Before you get started on your Northern Virginia bath remodeling project, discuss all the different ways you can make your small bathroom look bigger with Daniel's Design and Remodeling. We have some proven techniques that can bring a sense of space to the tiniest bathroom.
Built-in's are your friend.
Utilize every bit of space in your small bathroom to it's biggest potential with built-in's. Floor to ceiling shelving and cupboards conceal all your necessities and take up very little space.
Float the vanity off the floor.
There are many modern vanity choices that take away a lot of bulk. Floating vanities leave a space underneath to give the illusion of more floor space. You can choose a floating vanity that matches the style of the rest of your house, whether it's traditional, modern or country.
Remove closets
There may be a way to increase your bathroom's footprint that you haven't thought of. You could eliminate a linen closet that's inside the bathroom, or borrow square footage from an adjacent hall closet. Think of other places you can store items, and utilize former closet space to create the Northern Virginia bath of your dreams.
Go big and bold.
It may sound counter intuitive, but going big and bold in a small bathroom is a smart move. Using a bright, large patterned wallpaper that might look like too much in a bigger room gives a tiny space a lot of dimension and fun. You can also go with one big piece like a gorgeous vanity counter top or antique sink to create real impact in the space.
Splurge on accessories and fixtures.
Even if you can't have the huge walk-in shower you wanted, you can still add a lot of luxury to a small bathroom. Indulge in higher end shower heads, faucets and accessories and give your Northern Virginia bathroom a spa-like feel.
Even if you don't have a lot of space, Daniel's Design and Remodeling can give you a beautiful bathroom that meets all your needs and feels a lot bigger than it is. Call us today to discuss all the possibilities for your Northern Virginia bathroom remodeling project idea!