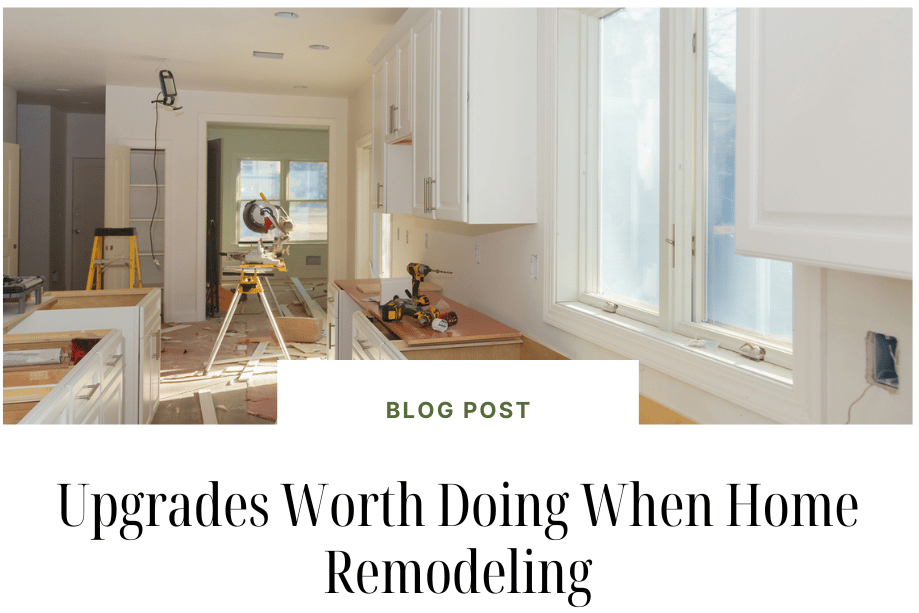 Remodeling and renovating your home can make it more fun for you to live there and, if done correctly, can also raise the value of your home in the process. However, not all improvements will do this.  While certain renovations have the potential to significantly increase the value of your property, others could possibly cause a drop in the list price. So what are the home upgrades that are worth doing?
Boost The Bathroom
The amount of storage space available is frequently a deciding factor for prospective purchasers.
Built-in cabinets and freestanding cabinets are both common options, but you may also have cabinets that are tailor-made to fit into oddly shaped areas. Consider installing shelving to make use of empty walls in your bathroom if it is on the smaller side. The more floor space you have, the more expansive your room will appear.
It should not come as a surprise that upgrading the shower and/or tub delivers the highest return on investment (ROI), given that they are the main point of any bathroom. It is possible to increase the value of your property by installing a huge walk-in shower in the master bathroom in place of the bathtub that is currently there.
However, you should ensure that at least one of the bathrooms in your property contains a bathtub, as potential buyers who have young children would regard this amenity to be a "must-have."
Upgrade The Energy
If your home does not have sufficient insulation or if it has draughty doors and windows, a home inspector will note this. The result of all of this is a larger use of energy, which results in additional expenses for the homeowner. You can begin with more manageable renovations, such as increasing the amount of insulation in your attic. This can be done yourself if the access is easy using mineral wool insulation. The initial layer is installed in the spaces between the joists, which are the horizontal beams that form the floor of the loft. Next, an additional layer is installed at right angles to the previous layer in order to cover the joists and bring the insulation up to the needed depth.
In order to limit the waste of energy, cracks should be sealed around doors, windows, light switches, and electrical connections.
Potential purchasers may be put off by windows that only have one pane of glass. Putting your money into windows with the Energy Star label will help you save money on heating and cooling. 
Think About The Flooring
Zillow says that one improvement that 26% of homeowners make is putting in new carpets or fixing up the flooring they already have. If you have a lot of rooms with different kinds of flooring, you might want to bite the bullet and invest in new flooring for all of them to create an atmosphere that is consistent from room to room throughout the house. 
Hardwood flooring is one of the best types of flooring, although can be more expensive than laminate, vinyl, and carpet. It looks great but more importantly, it is durable, lasting for years and years but not requiring any more in terms of maintenance than a cheaper laminate floor. It is not recommended for areas that get wet though, so leave it out of the bathroom and perhaps the kitchen and use a good quality vinyl there or tiles.
Light It Up
Changing the lighting in a home's different rooms is a simple improvement that doesn't cost much money but can have a big effect on the property's overall appearance. When you are looking at several alternatives for chandeliers, pendant lights, and ceiling fixtures, it is important to remember to choose colors that are complementary to the hardware in your home. You can blend metals such as copper and oiled bronze or brushed nickel with chrome, for instance, but you probably should not mix gold and silver tones together as these can look dated.
Final Thoughts
If you are thinking of selling your home in the future, think about the home upgrades that are worth doing. Which ones will add value to your home? Of course, not every remodeling project is done with a future sale price in mind. If you are planning on staying in your home and want to make it more comfortable and enjoyable for you and your family, the financial value that it adds may be secondary to the comfort value.