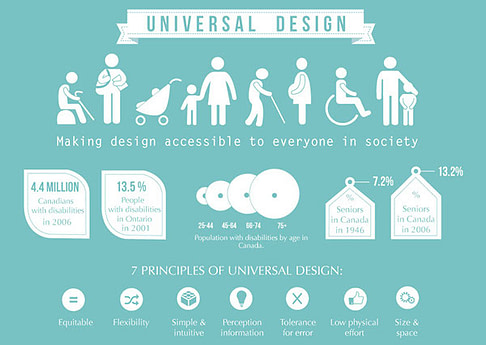 Universal Design creates accessible spaces for all people, and it is quickly becoming a popular remodeling choice. Universal Design is not just for people with special needs. It's also for people who are forward thinking and plan to age in place. Bringing Universal Design into your Northern Virginia remodeling project is easy, and its elements are virtually invisible because they are integrated into the overall design.
When you or your loved ones have needs that aren't being met by traditional design, you want to takes steps you make sure everyone is safe and happy. Aging in place means you can live in your home comfortably as long as possible, and Daniels Design and Remodeling has wonderful and creative ideas. We work with you and get to  know your family's exact needs, and create a unique design based on that. It is a full collaboration that you are a part of from start to finish. Technology has come to a point where things can be very serviceable without looking industrial. Your home won't look like a hospital, it will be designed to be very warm and welcoming, while at the same time being very safe and supportive.
Universal Design has seven basic principles. First is equitable use. This is design that is useful to people with diverse abilities. Flexibility in use is design that accommodates a wide range of individual preferences and abilities. Simple and intuitive use is another core principle. This means things are easy to understand regardless of the user's experience, language skills, concentration level or knowledge. Perceptible information communicates necessary information to the user regardless of the user's sensory abilities or any ambient conditions. Universal Design also the user tolerance for error, minimizing hazards or adverse consequences of accidental actions. It also requires low physical effort, and can be used efficiently without fatigue. It also takes into account the size and space for approach and use, which means appropriate space is provided to approach, reach and use things, regardless of mobility, posture or body size.
Give Daniel's Design and Remodeling a call today, and our design team will help you remodel your home with Universal Design. It's design that is accessible to everyone in society, and it's a smart move to think ahead. Your home will be an accessible, safe and welcoming space for as long as you choose to live in it.