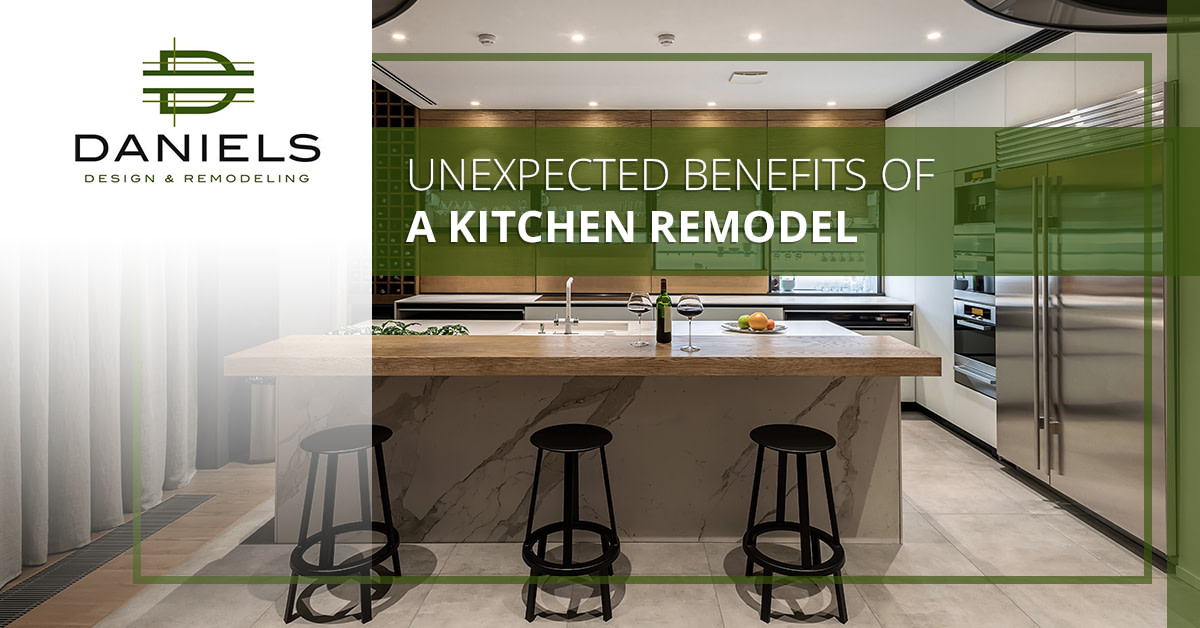 For most people, remodeling their kitchen is a top priority, and it's no different here in Northern Virginia. After all, besides your bedroom, you use your kitchen the most to cook meals, grab a snack and a drink, and to just hang out with family and friends. Having the space and amenities you need is important for such a prominent room in your home.
Daniels Design & Remodeling is a kitchen renovation company offering the residents of Northern Virginia the kitchen of their dreams. Our kitchen remodeling design process consists of three easy steps: a feasibility study, three designs, and then the build process. It truly is that simple. While there are many steps to the actual kitchen renovation process itself, our team handles all of those. As the homeowner, your job is to sit back and relax once your design has been chosen and watch the magic happen. Most of us know the benefits of a kitchen remodel, such as having increased space and functionality. Today, we'll explore the unexpected benefits of a kitchen remodel. Contact us to schedule a conversation today!
UNEXPECTED BENEFITS OF A KITCHEN REMODELING SERVICE
You Will Be Healthier
In today's world, we expect everything instantly, from the food we eat to the package we just ordered online and on-demand videos. It's all too easy to grab fast food on the way home instead of spending twenty minutes cooking yourself. However, when you invest in a kitchen remodeling service, you will be healthier because you will want to cook more nutritious meals at home rather than eating out. When it's easy and comfortable to cook and you enjoy your space, cooking becomes fun.
Spend More Time With Your Family
The kitchen is the heart of the home. Think about how many times you enter it every day or pass through it. However, before your recent kitchen remodel for your Northern Virginia home, you may not have wanted to spend too much time in your kitchen if it was uncomfortable or cramped. Now, with a new kitchen remodel, you'll be cooking more and your family will be more likely to eat together with adequate space and ease. Additionally, research has shown that eating together as a family leads to better grades in school for kids, better relationships, and less obesity in kids.
Have Better Relationships
When you have a nice kitchen that can comfortably hold people and is easy to maneuver around, you are more likely to invite friends over for coffee or dinner. You are more likely to host parties for work or for holidays, and you are more likely to host big family get-togethers as well. Having friends and relationships is important to your mental and emotional well-being. Humans were created for community, and having a wonderful new kitchen remodel by a top-rated home remodeling company such as Daniels Design & Remodeling in Northern Virginia, gives you a great way to bring people together.
CHOOSE DANIELS DESIGN & REMODELING IN NORTHERN VIRGINIA TODAY
Since 1997, Daniels Design & Remodeling has been bringing homeowners in the Northern Virginia area the best home remodeling services, such as kitchen and bathroom remodeling. We offer a wide variety of home renovations, from helping with home additions and aging in place to green remodeling, universal design, and porches and patios. Our team follows a proven process to ensure you are getting the exact things you need from your home renovation project.
We will visit your home after you schedule a conversation with us. This will allow us to see the space and have a personable interview with you to gather all of your wishes. We will take measurements of the space and photos as well to help us remember the details of your home. Next, we'll make sure there won't be unexpected hitches to the project, such as your home being classified as a historical building. We'll design three concepts to share with you and choose materials. We will consult with our subcontractors and other building project personnel to get a firm cost for your home renovation project. Then you decide on a design and sign our contract. After that, the fun begins, and there's almost nothing as exciting as watching a home renovation project take shape.
Daniels Design & Remodeling is proud to offer home renovations to create the space you need and want to enjoy for a very long time. Our mission is to ensure your kitchen renovation and other home remodeling services offer quality, craftsmanship, and customer satisfaction. Our team works together to bring you innovative designs and skills that will have you falling in love with your new space instantly. With over 25 years of experience and a two-year warranty on our work, you can rest assured your home remodeling project is in the best of hands.Contact us to schedule a conversation today!