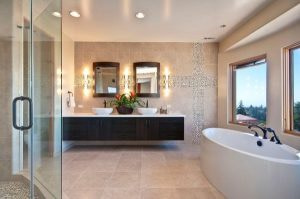 The master bath should be a modern sanctuary, and if yours leaves something to be desired, the new year is a great time to think about that long overdue master bathroom renovation. The best master bathrooms combine timeless choices mixed with a few innovative touches. Here are some of the top trends that may make your Northern Virginia master bathroom your favorite room in the house.
Dimensional Tile
The trend in dimensional tile is taking America by storm, and for good reason. They have beautiful, unique designs that can be tailored to any taste, and dimensional tile is beautiful, durable, and water resistant. Manufacturers use advances in waterjet technology to create amazing designs and patterns. Homeowners can use it as an accent wall, in the shower, or throughout the room.
Super Storage
In today's hectic world, organization is key. In the master bath, the latest trends are taking bathroom storage to the next level. The craftsmen can create storage solutions that are custom designed for your needs, like slide out shelving units and built-in cubbies. The newest innovation for bathroom appliance storage is drawers with power outlets built right into them.
Floating Vanities
Floating vanities are gaining in popularity for several reasons. They create a sense of space in a small bathroom, and the open space underneath makes it easy to clean. Floating vanities can be installed at any height so they can be customized for tall or short people. These type of sinks are also included in Universal Design principles and work well for those in wheelchairs.
Soaking Tubs
Large, free standing tubs are taking center stage in master bathrooms. Choosing a unique material like stone for your tub makes even more of a statement. Deep soaker tubs are the perfect place to relax after a hard day. Placing the tub on a pedestal and surrounding it in beautiful tile are timeless trends that create a luxurious en suite bathroom.
Our team of experienced designers at Daniels Design and Remodeling is waiting to help you incorporate some or all of these ideas into your Northern Virginia master bathroom remodel. You'll get a bathroom you love and increase the resale value of your home. Call us today to start the conversation!