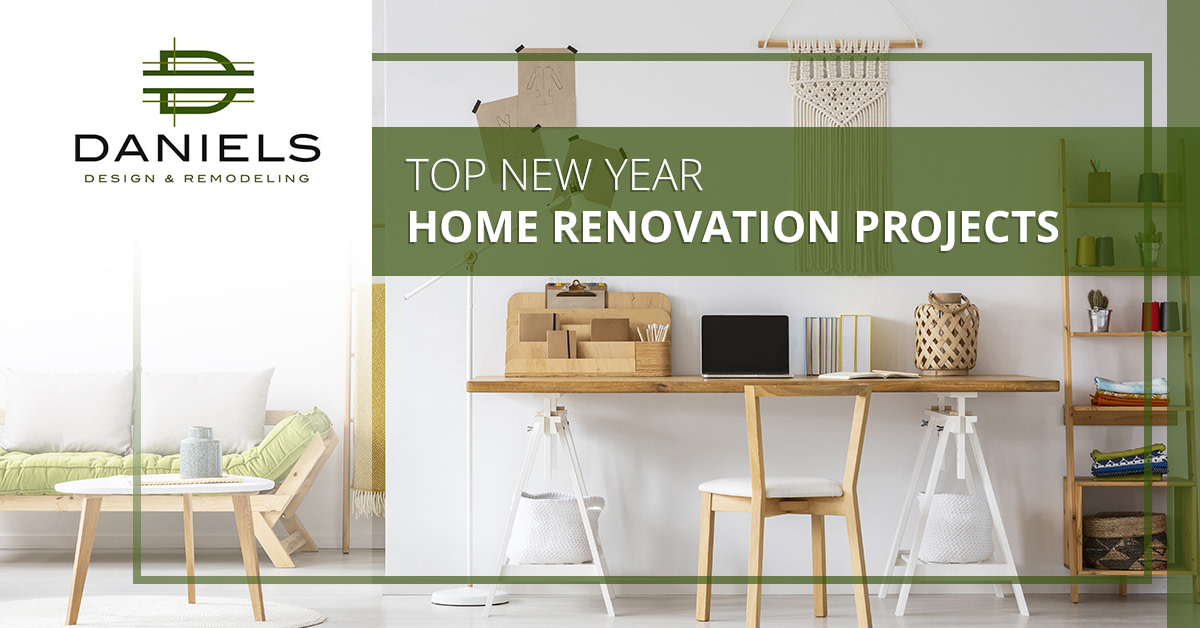 Almost everyone is looking forward to 2021. For many, the past year was full of hardships and woes, so many are planning to make up for it this year. For some, that is improving their home with home renovation projects. Unless you build your own home, every home you purchase has something you want to change to suit you and your needs. Home renovation projects allow you to make your home exactly how you want so you can live comfortably.
Daniels Design & Remodeling is a home renovation company based in Fairfax. We offer many home remodeling services, including kitchen, bathroom, office, basement, garage, porches, and more. We have over 25 years of helping homeowners in Northern Virginia create their ideal spaces, from a kitchen with an island to a bathroom with a large soaking tub. Our expert team brings talent, innovation, and technology to your home renovation build. Below, we'll take a look at the top new year home renovation projects to consider for your home. Schedule a conversation today!
TOP NEW YEAR RENOVATION PROJECTS FOR YOUR NORTHERN VIRGINIA HOME
Home Office
With the pandemic, many people were forced to work from home. For some, this was a blessing. For others, it meant turning their kitchen table into an office or putting a desk and chair in their living room and calling it good. For 2021, many companies will keep their employees at home through the winter and spring, and some businesses are shifting their models to offering flextime. Thus, home offices are becoming as essential as the kitchen. Daniels Design & Remodeling offers home office remodeling services for your Northern Virginia home. Schedule a conversion with us today.
Soundproofing
Not only were workers sent home to work, but kids were sent home from school. This compounded the problem of finding a suitable place to get some solid work done. Soundproofing has proved to be a God-send for many, enabling them to work from home, while their family was home as well. Our team can help you both create a suitable place to work and then implement measures so you can still be a part of your home's happenings but also be able to hold Zoom meetings without interruption.
Home Gyms
The pandemic saw a shut-down in many gyms across the country as well, leaving those who want to exercise in the lurch. Thus, the idea of creating a home gym out of the garage or the basement appeals to many. It doesn't take much to get a good workout in, from a piece of cardio equipment and a box to dumbbells and a pull up bar. More people are beginning to work out at home due to how easy it is as well. Contact Daniels Design & Remodeling for your home gym estimate today.
Kitchens
Ever popular, remodeling your kitchen has become essential, especially with restaurants still offering limited seating and many closing due to restrictions. Since you are cooking from home more, it's important to have a functional space you enjoy. Plus, since you'll be home more, you truly want a space that is aesthetically pleasing as well, and one you can invite a friend over for coffee and be comfortable in. Furthermore, a kitchen remodel is one that you will get the most bang for your buck in terms of resale value. Daniels Design & Remodeling loves helping homeowners in Northern Virginia have the kitchen of their dreams. Contact us today.
CHOOSE DANIELS DESIGN & REMODELING FOR YOUR NEW YEAR'S HOME RENOVATION PROJECTS
As you are setting your goals and resolutions for the new year, don't forget to consider your next remodeling project and choosing the one that will help generate the most comfort in your home.
Daniels Design & Remodeling offers home renovation projects that will improve the functionality and aesthetics of your home. Our talented team consists of designers, project management specialists, masons, carpenters, tradesmen, and more in order to ensure every detail of your home renovation project is perfect. Our design process consists of three easy steps:
Feasibility study, where we visit your home and discover what you want to see out of your home renovation project. Then we create three designs for you to choose from

Once you decide on the general design, we'll tweak it to your exact specifications and sign the contract.

It's on to the build phase, where we plan the entire home improvement project from start to finish. The project is done only when you are 100% satisfied with the result.
Our remodeling projects are vast. Besides the ones listed above, we also offer bathroom remodeling, universal design and aging in place remodels, green remodeling, home additions, and porches and patios. Once we meet, we will explain our process to you thoroughly and answer all of your questions. Partner with our home renovation company in Fairfax to see what is possible with your home today!