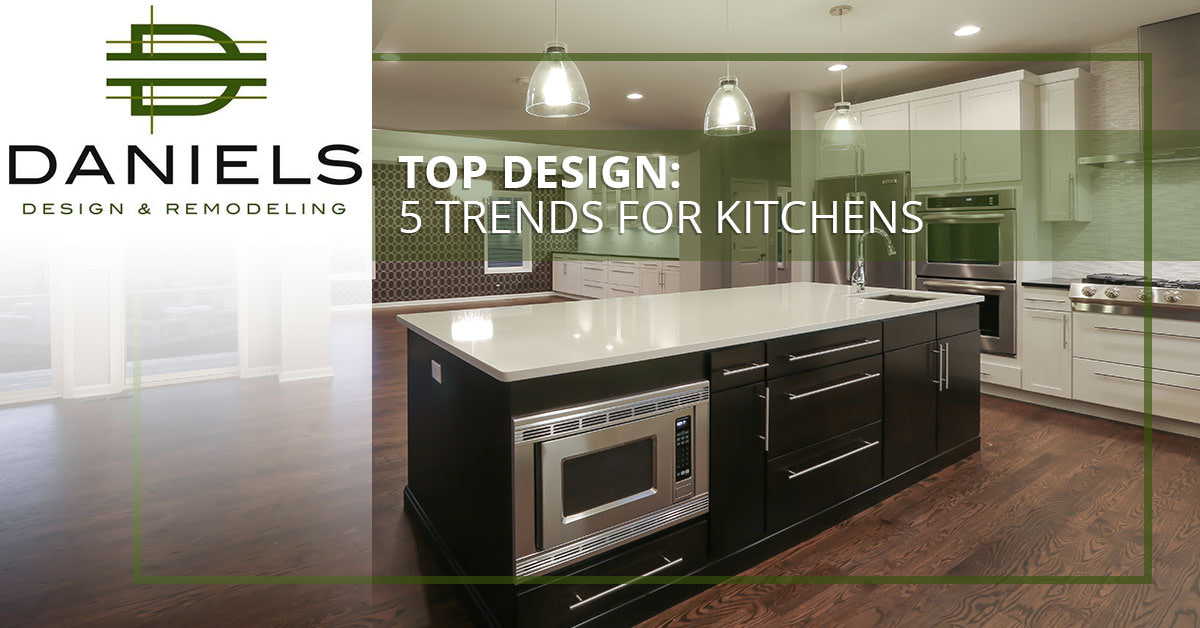 Keep your kitchen up to date with the latest and greatest design trends of the year!
In 2018, the kitchen is no longer just where food is prepared; it's the focal point of any home. And, as such, kitchen trends have dramatically changed. At Daniels Design & Remodeling, our goal is to provide you with a renovation that is up to date and trendy. That's why we've put together this list of the top five kitchen design trends for 2018:
#1. Smart appliances and gadgets
Technology has changed the way we do a lot of things in our homes, from turning on the air conditioner to locking the doors, and the kitchen is no exception. That's probably why smart kitchens are the most sought-after design trend of the year. Today, you can get technology added into almost every aspect of your kitchen. For example, you could get a refrigerator that alerts you when you're low on groceries or a lighting system that can be controlled with your smartphone.
#2. Creative storage solutions
The way storage is designed in most kitchens tends to leave a lot of wasted space, and it makes it extremely difficult to build adequate storage into smaller kitchens. Luckily, many of today's kitchen renovations are all about creative storage solutions. There are so many out-of-the-box ways to add more storage and save more space, including pull-out and roll-out trays, caddies, appliance garages, tray dividers and deep drawers.

#3. Cleaner, more streamlined designs
While designs — like mid-century modern and farmhouse — are still popular for kitchens, many homeowners are looking to create kitchens that have cleaner, more streamlined designs. This comes from a desire to create a more stress-free environment in the home, but that doesn't mean that these designs are boring.
#4. Quartz countertops
When it comes to kitchen countertops, quartz has been king for a long time, and with good reason. Quartz countertops are incredibly durable and are designed to last for years. They are also ridiculously simple to maintain and clean, as quartz is an antimicrobial material. Best of all, quartz countertops come in a huge range of colors and styles. You can even get quartz countertops that look just like their more expensive, natural stone counterparts.
#5. Hardwood flooring, followed closely by ceramic tile
For kitchen flooring, hardwood is still the number one choice. However, ceramic tile is much more popular than it used to be, and it's now the second most popular flooring option for kitchens. Ceramic beats out hardwood flooring for many reasons, though, including its ability to withstand moisture and wear and tear. Best of all, you can get ceramic tile that looks virtually indistinguishable from hardwood, making it the best of both worlds.
---

Are you ready to take advantage of 2018's top kitchen design trends?
If so, you need to find the right company for the job, and that's where Daniels Design & Remodeling comes in. We've been serving the good people of Northern Virginia since 1997, and our main priority has always been and will always be to bring your vision into reality. Contact us today to get started!