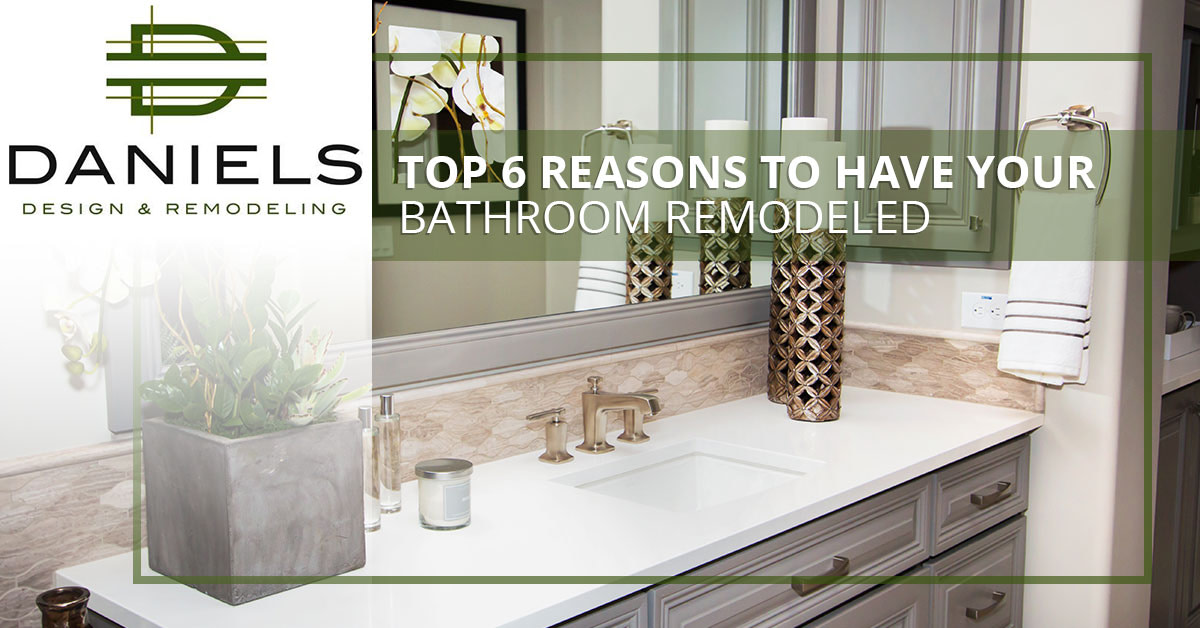 Are you thinking about remodeling a bathroom in your home, but you're unsure about whether it's worth the investment or not? If so, you've come to the right place. We're Daniels Design & Remodeling, and we're proud to be Northern Virginia's premier remodeling contractors for bathrooms, kitchens, additions and virtually any other renovation you can think of. We know that any remodeling project is an investment and a leap of faith, but when it comes to your bathroom, it's well worth it.
Here are the first three of the top six reasons to have your bathroom remodeled:
#1. Give your bathroom a facelift.
Nothing makes a home look older or more outdated than a bathroom that hasn't been updated for a decade or two. In this day and age, there are simply more aesthetically pleasing designs available, and there are a lot more options, which means that you'll have an opportunity to design your bathroom how you want it to be designed.
#2. Add in more storage space.
From soap and shampoo to medication and toothbrushes, there are a number of items common in any bathroom. It's important to have plenty of storage so that each and every item has a home. If you've been forced to get creative with the storage solutions in your bathroom over the years, it might be time to add more storage with a bathroom renovation. This doesn't mean that you need to set aside a lot of room for a linen closet either. There are plenty of ways to hide bathroom storage, and the team at Daniels Design & Remodeling can help!
#3. Save more water.
Did you know that in the typical American home, the water used for the shower and toilet accounts for about half of all of the daily water used? Luckily, though, there are many low-flow options that can help you cut back on your water usage in the bathroom. But, how much water can low-flow plumbing fixtures actually save you? Are they worth the investment? The answer is an unequivocal yes. Take toilets, for example. An older toilet will typically use between 3.5 and six gallons of water per flush; whereas, a low-flow toilet will typically only use about 1.6 gallons of water per flush. That's at least half the water use saved for every flush. Now imagine how much water you could save if you replaced all of the bathroom plumbing fixtures with modern, low-flow options!
As we mentioned, there are many reasons to remodel your bathroom, and we've only covered the first three. In our next blog, we'll be touching on three more reasons to renovate your bathroom, so make sure that you stay tuned!
In the meantime, if you're wondering whether a bathroom renovation is the right option for your needs, give the experts at Daniels Design & Remodeling a call. As your premier renovation team, we specialize in making your vision a reality, and we'd love to help you make the most out of your bathroom. Schedule your conversation with our design team today!