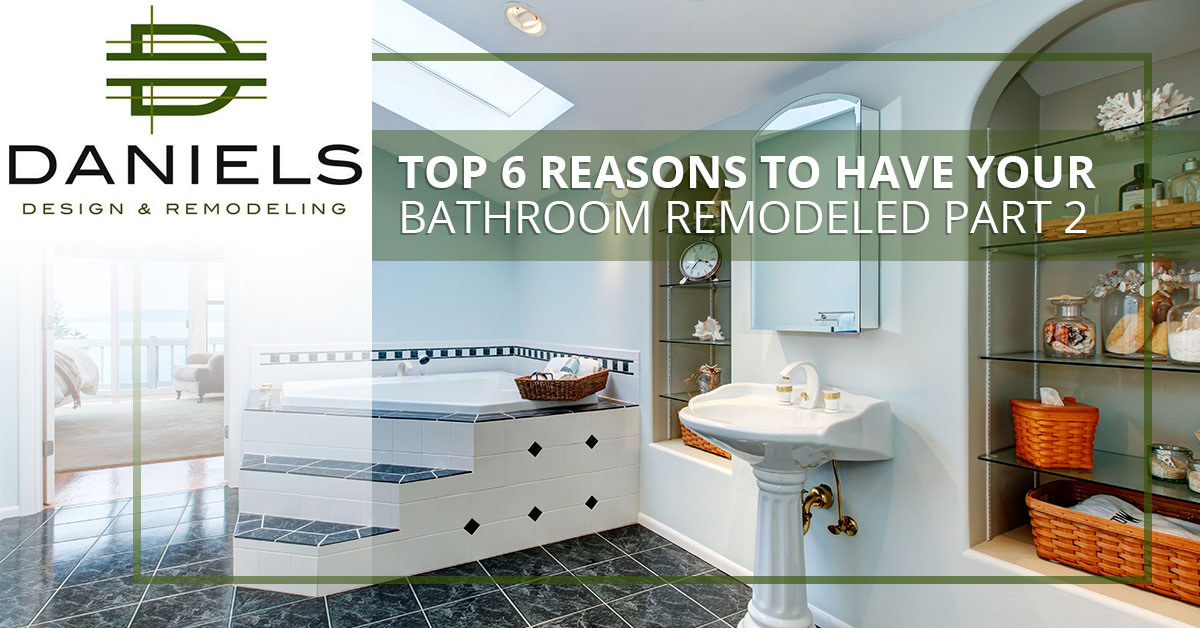 From making your bathroom more luxurious and aesthetically pleasing to saving more water every month, there are many different reasons to have your bathroom remodeled. And, in our last blog, the renovation experts at Daniels Design & Remodeling went over just a few of those reasons. Today, we'll be touching on the last three reasons to have your bathroom renovated.
#4. Fix existing issues and prevent future issues.
In some cases, the motivation to remodel your bathroom won't stem from wanting to save money or enjoy a change in your hope. Instead, it will stem from a plumbing issue that requires major changes, like pulling up the floor or removing a bathtub or shower. When major work is already being done on your bathroom, it's an ideal time for a renovation. Best of all, this also gives you a chance to get your bathroom professionally designed to reduce the likelihood of future plumbing problems.
#5. Add more value to your home.
Regardless of whether you plan to live in your home for the foreseeable future or you are getting ready to put in on the market, you should think of your home as an investment. Like with any investment, the goal is to get it to grow, and one of the best ways to do that is by renovating your bathroom. In terms of the return you'll get on your investment, bathroom remodels are some of the smartest renovations you can make on your home. Best of all, when you do decide to sell, the renovation may also help you sell your home faster.
#6. Make your bathroom a safer place.
Did you know that the bathroom is the number one place people get injured inside their homes? There are all kinds of reasons why people frequently get hurt in their bathrooms, but the most common bathroom injury is slipping and falling. Tile is a stunning flooring option for any bathroom, but it can also be extremely slippery when it's wet. Renovating allows you to pick a flooring option better suited to your needs, and if you need any further safety interventions, like grab bars, renovating is the perfect time to take advantage of them.
Whatever the reason, pick a remodeling contractor you can trust.
Whether you're remodeling because you hope to conserve more water, add value to your home or you are in the midst of making significant repairs to your bathroom, it's important to hire the right renovation company for the job. The fact of the matter is that there are a number of contractors and companies out there that hope to gain your business, but not every contractor will provide you with the high-quality results you deserve. Here in Northern Virginia, there's no better choice than Daniels Design & Remodeling. We've been providing expert service since 1997, and every aspect of our unique, three-step process is designed to ensure that the end result of your project fits your vision. Don't wait! Take the first step towards enjoying the bathroom of your dreams. Schedule your conversation with our team today!