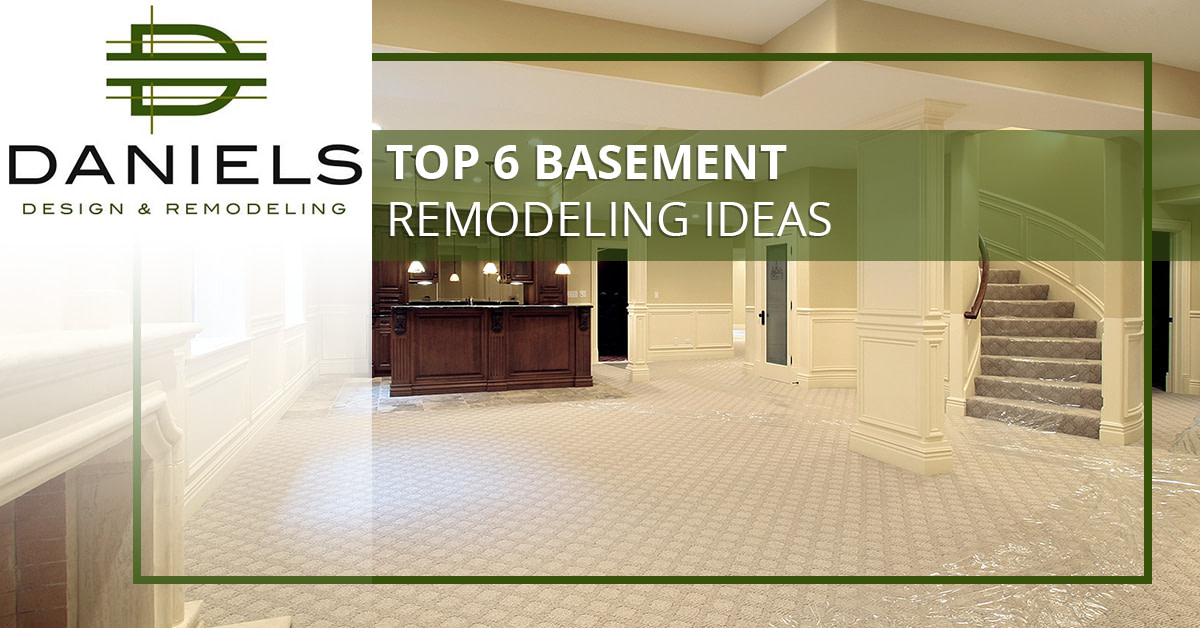 Looking for a great idea for your basement remodeling project?
An unfinished basement is like a blank canvas. There are so many possibilities out there, and it's completely up to you to decide what you want to do with it. But, just as Uncle Ben says in Spiderman, with great power comes great responsibility. No one wants to put the time, energy and money into remodeling their basement, only to end up with something less than ideal. And, luckily, your friends at Daniels Design & Remodeling are here to ensure that your new basement is everything you've always wanted it to be. Here are our top six ideas for your basement remodeling project:
#1. Home Gym
Did you know that an estimated 80 percent of gym membership holders in the United States never actually set foot in the gym? That's right, most people who have gym memberships don't use them, and if you're looking for a better way to get fit without throwing away an average of $40 to $50 every month, a home gym might be the perfect option. Time is a huge reason why people don't make it to the gym. We all lead busy lives, and when you have a few extra minutes, the last thing you want to do is spend it wiping someone else's sweat off of the machine you want to use. Best of all, you don't even need a lot of pricey equipment to get a great workout at home. You'd be surprised at how effective a jump rope and a few dumbells can be. Turning your basement into a home gym will make your workouts something they have never been before — convenient – and that might just be the push you need to finally reach your fitness goal.
#2. Craft Area
We all lead incredibly busy lives, so you'd think no one would ever get bored, but boredom is a big part of our modern society. And, while a little boredom is a normal part of everyday life, if you're perpetually bored, it can actually have consequences on both your physical and mental health, as well as your professional life. One of the best ways to combat boredom is to find a hobby, which is where crafting comes in. The problem most people have with crafting is that it requires space, but if you're looking for a great idea for an unfinished basement, you have all of the crafting space you need! Whether you want to start designing your own clothes, making your own soap or crafting your own jewelry, it won't be difficult to avoid boredom ever again with your own craft room.
#3. Home Theater
Going to the movies isn't the fun, inexpensive night out that it used to be. More and more movie theaters are amping up the luxury by offering ultra-comfortable, reclining seats, reserved seating, gourmet food options and even liquor! But, all of that luxury comes with a price. What used to be around $8 a ticket is now around $12 for theaters like this, and when you add in the costs of popcorn, a soda and some candy, you're looking at spending easily over $25 for a night at the movies. This is part of the reason why movie theater attendance has dropped to a 19-year low. With faster than ever accessibility to new movies, more and more people are opting to enjoy movies at home rather than going to the theater, and with your own home theater, you can experience all of the incredible luxury of going to the theater without the costs! Plus, you won't have to worry about getting caught sneaking in your own candy!
Ready to transform your basement? Turn to one of the best remodeling companies in all of Northern Virginia. Contact us at Daniels Design & Remodeling today to get started! And, make sure that you stay tuned for our next blog to learn about the next three top basement remodeling ideas.