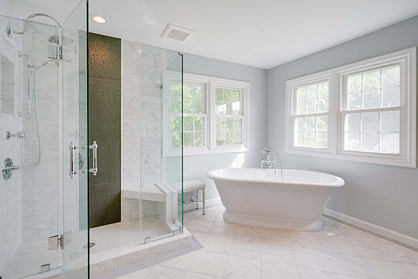 Aging in place is becoming a popular choice for baby boomers. When you've invested so much time and attention into your home, why leave it just when you get the most time to enjoy it? The good news is, aging in place is a great option thanks to the many new developments in Universal Design. AARP recently conducted a survey called "Livability for All: The 2016 AARP Age-Friendly Community Survey" of people age 50 and older. We've run down the top 5 home modifications recommended for boomers who want to stay in their homes when they retire.
Bathroom
Bathroom modifications were the most recommended home modification, with 42%. Many Universal Design bathroom changes are also very trendy right now, such as big, curbless walk-in showers. Bathrooms can be up to date and attractive instead of industrial.
Emergency Response Systems
32% of all survey respondents recommended installing an emergency medical response system. We've come a long way from "I've fallen and I can't get up." Today's response systems can have video and audio surveillance and 24/7 monitoring.
Lighting
Improved lighting is also an important modification, and 24% of people surveyed agreed. These include changes like large, flat lighting switches instead of toggles, and lower lighting switches. It is also a good idea to improve lighting in kitchens and bathrooms to make things easier on aging eyes.
Accessibility
Easier home accessibility is also a top priority for aging in place, according to 22% of respondents.These changes include things like adding ramps to front and rear entrances, widening doorways to make them more wheelchair accessibly, and adding chair lifts on stairs.
First Floor Additions
14% of people surveyed included first floor additions as important modifications. Adding square footage to the first floor in the kitchen, bathroom and bedroom is always a good idea for aging in place.
If you are planning to age in place in your Northern Virginia home, call Daniels Design and Remodeling. Our experienced professionals can give you all your Universal Design options, and help you plan the perfect home modifications for your retirement.