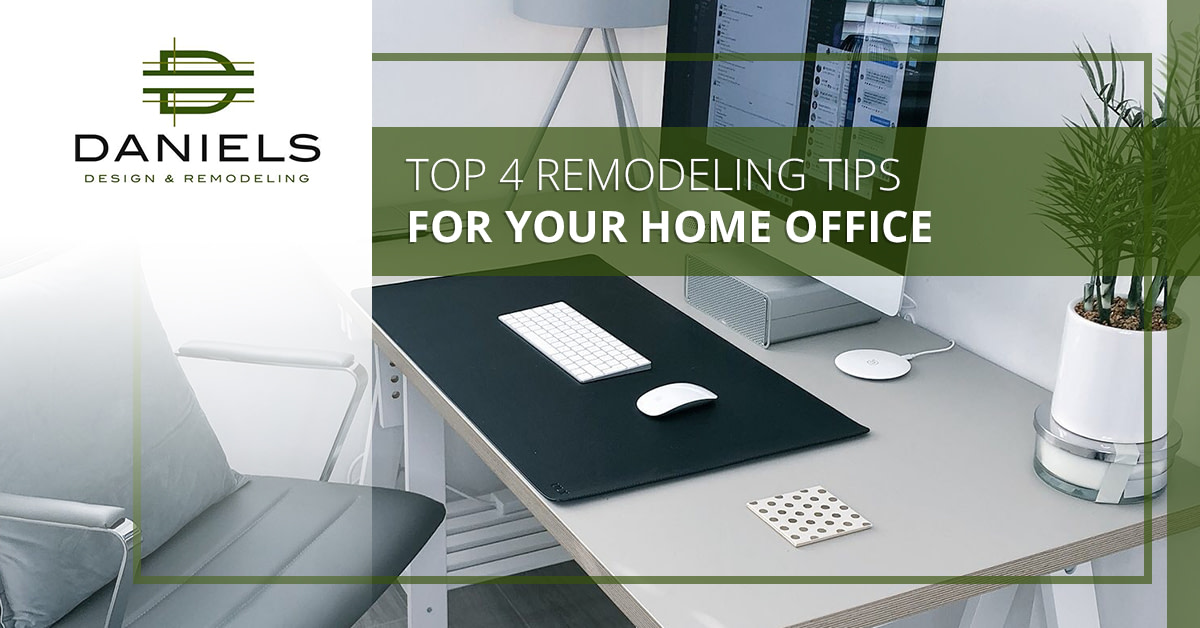 With the proliferation of working from home, home offices are quickly becoming a must-have in Northern Virginia homes. New home buyers are looking for homes that have a place for a home office or room to add in one, or current homeowners are looking to invest in office remodeling services so that they can have a comfortable space to work.
Daniels Design & Remodeling offers exceptional home office remodeling in the Fairfax, Virginia area. We've been helping area homeowners since 1997 have the indoor spaces that they have dreamed of, including kitchen and bathroom remodels. Our dedication to excellence and attention to our customers' needs puts us head and shoulders above other home remodeling contractors. Below, we'll offer our top four remodeling tips for your home office. Contact our home remodeling company to schedule a conversation today!
TOP NEW YEAR RENOVATION PROJECTS FOR YOUR NORTHERN VIRGINIA HOME

Location of Your Home Office
Working from home poses different challenges than working in an office environment, the main one being your family. If you have kids, noise abatement can be a constant struggle, especially if they are little. Furthermore, consider the type of business you own. If you are a client-facing business where you'll have customers coming and going, you may want your own little corner where you can have a separate entrance, or an office by the main door of your home where clients can easily reach you. If you are considering a home office remodel, Daniels Design & Remodeling can help install a doorway so that you can make it more convenient for your home life and for customers. Call to learn more today.
Have a View
Too many of us have worked in offices in the middle of buildings or worked in an office where there was only one small window for a time. Not only is this not good for your mental health, but it can be downright depressing. Being able to see nature even from the inside is calming and soothing and can help relieve stress. There's something to be said about being able to glance away from your computer and see birds flying, squirrels climbing trees, and beautiful flowers blooming. In addition, glancing away from your computer every so often helps to reduce eye strain.
Invest in Ergonomics

Desk jobs can be killer on the body almost as much as physical labor can be. Our bodies were not designed to sit all day long. It puts undue pressure on your back and neck and can cause wrist problems and circulation problems, in addition to other conditions. Thus, investing in an ergonomic desk, chair, keyboard, and monitor stands can ease the stress on your body considerably, as well as end the aches and pains you wake up with in the morning. It can help ward off other problems down the road, and it encourages more activity throughout your day.
Surround Yourself With Family
When we say surround yourself with family, this means decorate your home office with items that remind you why you go to work every day — your family. From your kids' artwork and family vacation photos to your fur babies lying around the house and pictures of your last family reunion, when you have constant reminders of those you love, the days will go by faster and those not-so-fun days won't seem so bad after all.
CHOOSE DANIELS DESIGN & REMODELING IN NORTHERN VIRGINIA TODAY
Daniels Design & Remodeling offers custom home office remodeling throughout Northern Virginia. Our talented team consists of interior designers, carpenters, project managers, masons, production specialists, and more who are dedicated to helping you have the kitchen, bathroom, home office, gym, living area, porch, and more that you've always dreamed of. We combine the highest-quality products with expert craftsmanship and attention to detail to bring you unique renovation projects that you can enjoy for years to come.
We follow a simple three step design process:
Feasibility study. Our feasibility study begins with a discovery phase as we dive into what you are looking for in your remodeling project. We will visit your home so we can see the space, take measurements, and ask a lot of questions. Once completed, it's to the drawing board where we will sketch out three conceptual designs for you to choose from.
Design choice. This may be the hardest part for you as you'll have to choose which design you want for your space. Once chosen, we'll sign our agreements, and be on our way to success.
Design and create. Next is the best part for us where we get to build your home remodeling project. From permitting to pre-construction meetings, we'll prepare and then build you the space of your dreams. Once completed, we'll show you the final project and ensure you are 100% satisfied. We offer a two-year warranty on our work, so if something needs a quick fix, we can help.
Daniels Design & Remodeling is proud to bring our customers the best in home office redesign throughout Northern Virginia. With so much time being spent at home, it's important that you are comfortable. A home office is a place where you will spend at least 40 hours a week if you work from home. If you include other household chores, such as paying the bills, or even reading in a special break corner, you could be looking at many more. For such an important room, you deserve the best. Call our home renovation company to schedule a consultation today!