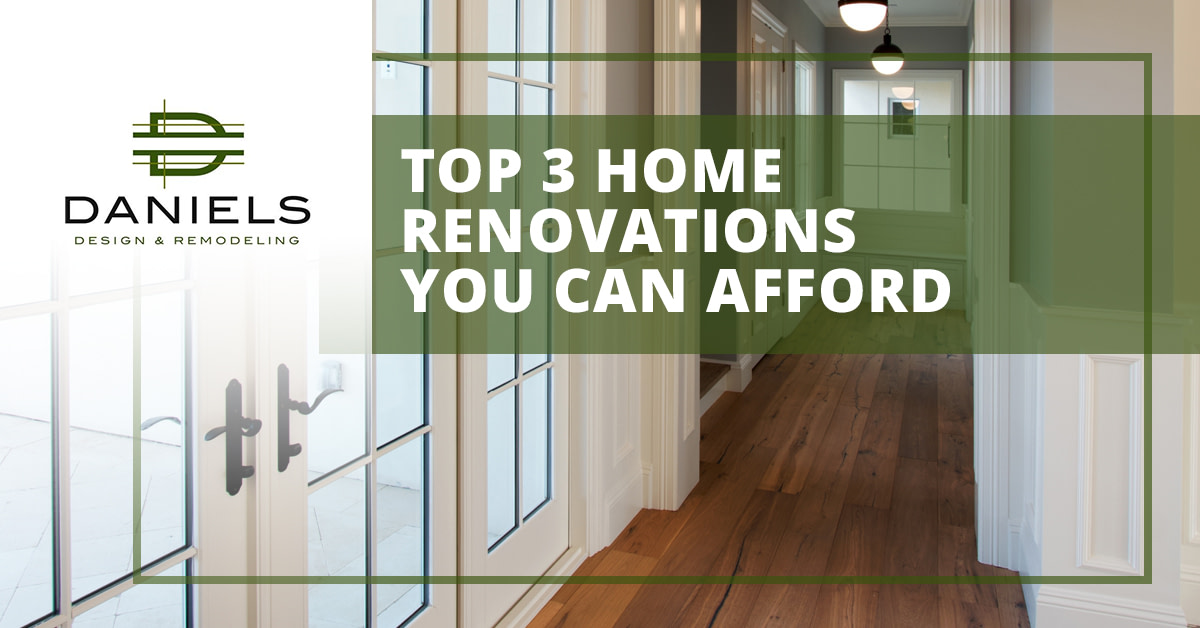 When people think of home renovations, they immediately start to see dollar signs churning in their heads. This is probably due to the proliferation of home makeover shows that turn a not-so-cool bathroom or kitchen into one that sizzles. These shows should be taken with a grain of salt for reality since these are not the norm for home makeovers.
Daniels Design & Remodeling offers home renovations in the Northern Virginia area. If you are looking to renovate your kitchen, bathroom porch, sunroom, or more, we can help. Our team of highly skilled craftsman and designers can ensure your home is magical and just the way you want it. Below, we'll take a look at three home renovations you can afford. Call our home remodeling company to schedule a conversation today!
TOP 3 HOME RENOVATIONS YOU CAN AFFORD
---
Add New Kitchen Countertops
Instead of going for a full-blown kitchen remodel, you can choose to invest in a partial kitchen renovation. This will entail leaving the walls in place for the most part and simply choosing those items you want to renovate. Adding in new kitchen countertops is a great kitchen update that will add value to your home and give your kitchen a whole new look. With so many options, such as granite, glass, and the like, the sky's the limit. The less kitchen counter surface you have, the less the cost as well. You can pair this with a custom kitchen island, too. Our kitchen remodeling team can help. Schedule a conversation with us today.
---
Install New Flooring
Flooring is another great home renovation to invest in. potential homebuyers rate flooring as super important when they are looking for a home to invest in. There are dozens of flooring options you can choose from that will allow you to customize the space as you see fit, and will also allow you to control your budget. You can choose from less expensive materials to the higher-end flooring options to suit your needs. Any new flooring will increase the value of your home, but if you're looking to get the most bang for your buck, choose the kitchen or living room. While you can DIY flooring, this is a lot of work, and if you want it to look its best, you should invest in a professional flooring company to handle the job.
---
Upgrade Your Lighting
Lighting is so important to homes not only so you can see, but also so that your rooms are bright. By upgrading your lighting, you'll be able to add a sleek, modern look to your home easily and affordably. One of the light fixtures we recommend upgrading first is your dining room lighting. Adding a chandelier over your kitchen table could change the feel of this space and add elegance and formality. It's also a chance to personalize your dining room to meet your tastes. If your master bedroom is lacking lighting, investing in recess lighting, especially over the bed, can drastically change the feel of this space. Many people love to read in bed, and this small home improvement could add a tremendous value to your Northern Virginia home.
SCHEDULE A CONVERSATION WITH DANIELS DESIGN & REMODELING TODAY
Daniels Design & Remodeling has been serving the residents and communities of Northern Virginia since 1997. We are passionate about bringing you home renovations that will add function and beauty to your space. From renovating a spare bedroom into a work from home setup to crafting a gym out of your garage, we can help. Our expert artisans, designers, craftsmen, carpenters, masons, and more can't wait to give you the "wow" treatment.
We've implemented a simple-to-follow home design process so that you won't have to worry about a thing. The first step is to schedule a conversation with our team. We will come to your home to look at your space and gather all of the information we can about your homes and vision. Next, we'll create three concepts for your space for you to choose from. You can alter these as needed. Once you've finalized your design, we'll begin the pre-construction and construction process, which includes pulling permits, scheduling the work, and updating you on the status of your home renovation. Once completed, we'll perform a final walk through so you can ensure every detail is as you like it. We warranty our work for two years to ensure everything holds up and you are 100% satisfied with the work performed.
Our family-owned home renovation company offers a variety of home remodeling services to meet your needs and fit your budget. We pride ourselves on working with you, and we work diligently to stay on-budget with no surprises at the end. If you are interested in a partial or a full home renovation, call Daniels Design & Remodeling in Northern Virginia today!