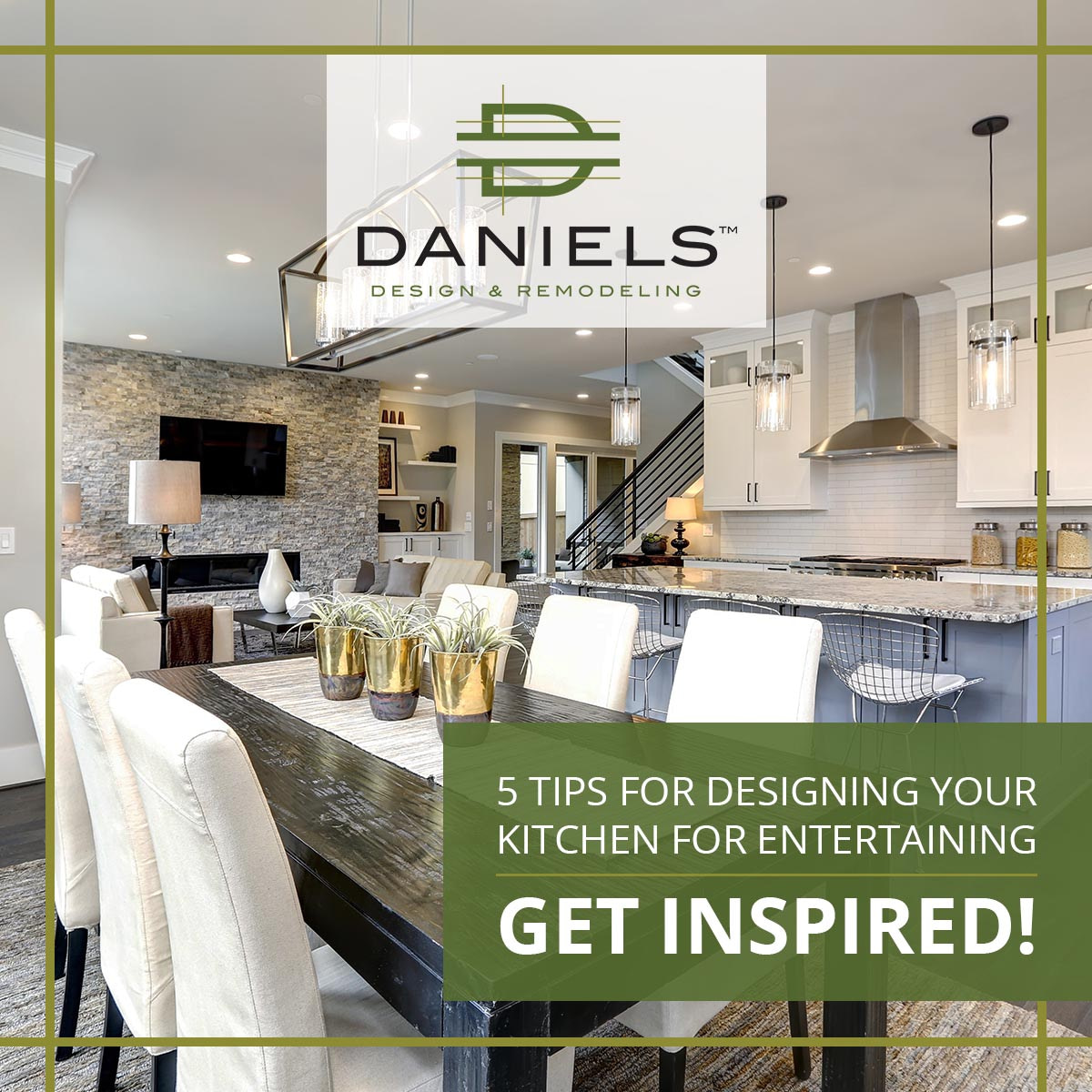 The Heart of the Home
The kitchen always seems to be the place that everyone in a home congregates. Families come together to smell what is cooking, parties gather around the exquisite array of wines and cocktails being poured, and mouths water watching pies and pastries cool on the countertops. The heartbeat of the home can usually be heard in the kitchen, and it is a space you'll want to take advantage of when entertaining. Daniels Design & Remodeling has some great ideas for how we can create the kitchen of your dreams, and make it a space that all of your friends and family never want to leave.
Quality Over Quantity
Having a gigantic kitchen can be great, but it isn't necessarily the factor that makes or breaks the space being ideal for entertaining. What we believe matters the most is how the space is used effectively, and it can be done in any range of space available. True, the laws of physics may inhibit some of the features you want the most, but we're committed to making any kitchen a dream kitchen. You just need someone to help you craft it and make it a reality.
Ask yourself what type of entertaining you imagine hosting regularly? Do you see large gatherings of folks, with little conversations going on here and there, or do you envision smaller, intimate gatherings, like wine tastings or mingling over authentic charcuterie? Being aware of the type of parties or get togethers you have in mind will help you determine what goal you should set for your kitchen space. From there, it is just a matter of refining the details.
Cooking As Entertainment
Another aspect of hosting and entertaining from the kitchen is determining if cooking itself would be an alluring form of entertainment. Do you imagine a group of friends all cooking together in a shared space, or would you rather have an audience while you dazzle them with your culinary finesse? Alternatively, is cooking in the kitchen a secondary priority to you, and you would rather have the space be where food is consumed and conversed over, and catering or cooking beforehand appeals to you better? The functionality of the kitchen of your dreams also contributes to what sort of kitchen you should set your eyes on.
Appliances That Serve Your Needs
Determine if you need a fridge that can hold an entire side of beef, or something more practical and sleek. Appliances should serve the purpose of the kitchen you want. Consider additional features, like cooling units for chilling wine, or warming drawers for proving dough. Determining the functionality of your kitchen will help in creating the desired form of your kitchen. Why take form over function when we can help you have both? Our team of designers can help you make the right decision on what appliances to include in your space so you can be the host or hostess with the most.
Island Paradise
If the space is available in your kitchen space, having an island can be an invaluable asset. In addition to providing more space to host and prepare meals, islands can also be a sleek way to provide power sources and storage space in a kitchen that otherwise may be lacking in that regard. You should also consider if an island should be a fixed feature, or perhaps having an island that is mobile would serve a better purpose. Daniels Design and Remodeling can work with you to determine if an island can improve the quality of your kitchen.
If You've Got It, Flaunt It
Another detail that can transform the appeal of your kitchen is how you present your storage areas. Do you have a collection of elegant dishware that could benefit from glass cabinetry? Perhaps you have dozens of authentic steins or teacups that could serve as conversation starters, or show off all of the places you've traveled. Glass cabinetry can also help convey the illusion of space in a kitchen where size can be a hindrance. Of course, the opposite of this may be true for your kitchen. Determine if you have the inventory that merits showing off and creating discussion. It can add a whole new dimension to your kitchen in regards to entertaining. The possibilities are endless when it comes to designing your space.
Creating Your Dream Kitchen
Daniels Design and Remodeling is prepared to walk with you every step of the way in creating the kitchen you've always dreamed about. Your Northern Virginia home can be the entertaining spot that you've always wanted, and if you have any questions about where to start, contact us! Start a conversation with us today, and before you know it, you'll be hosting and entertaining from your kitchen in style. We just hope we're invited to your next party.