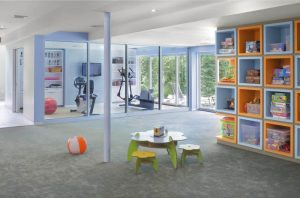 If you are desperate for more space in your Northern Virginia home, the answer may be right under your feet. A basement renovation can add the square footage you are looking for as well as add major value to your house. An unfinished basement offers an amazing opportunity. You could create a playroom, workout room, wine cellar, media room or a great multi-purpose space. 
A place to entertain.
One of the main reasons people renovate their basement is to gain a space for entertaining. This could be a brand new family room area with a place for lounging and socializing. Adding a custom bar makes it the perfect spot for everyone to gather for the big game. You may also create a dedicated movie and media room with soundproofing and big comfy chairs. It's the perfect spot for the kids to play video games and hang out with their friends too.
Combine two great concepts.
The basement usually will have enough square footage to use it as a multi-function space. A great combination is a workout area and a play room. This allows the grown ups to get in a decent workout and still keep an eye on the kids. The children have their own space for toys and games, so the clutter doesn't encroach on the rest of the house. Another idea is to combine a wine cellar with a sophisticated bar area. This give you the perfect space to show off your collection and enjoy a glass with family and friends.
The designers and builders at Daniels Design and Remodeling have years of experience helping people create the perfect finished basement. If your family feels squashed and there is no room for an addition, a basement renovation gives you the space you need without having to add to the footprint of your house. Contact us today to discuss all your basement remodeling ideas!