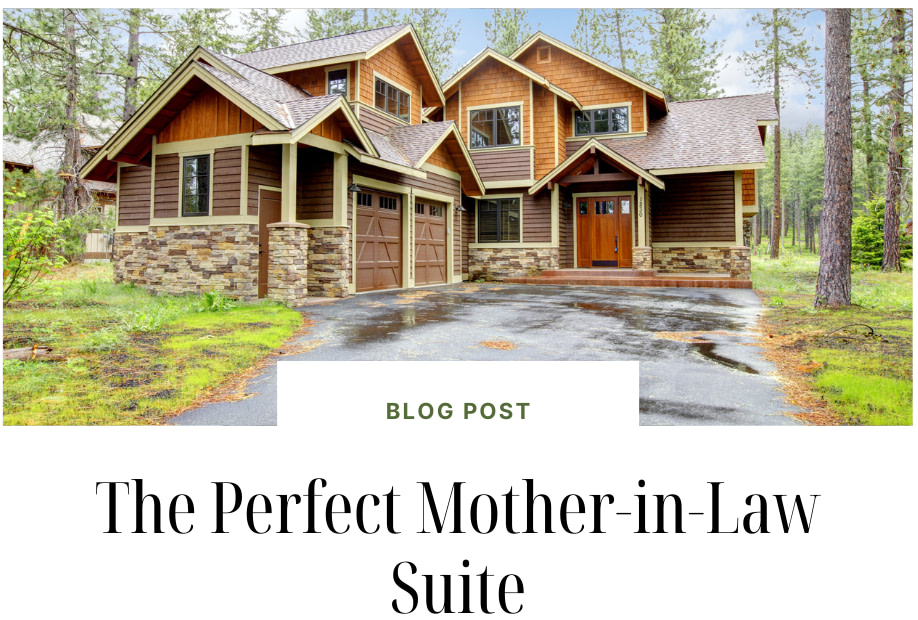 While the name suggests that your upcoming addition over the garage is a suite for the in-laws, many homeowners in Northern Virginia create additional space over their garage for other reasons. For multi-generational habitation or lucrative short-term rentals, your mother-in-law suite should offer a bit of luxury.
What Is a Mother-In-Law Suite?
A mother-in-law suite is simply a private living area within a home or elsewhere on your property. In many cases, the term references anything from luxury sheds to bathhouses to home additions. The most common definition, however, would put this additional living space above the garage.
The key factors in a mother-in-law suite are:
A sleeping space
A bathroom
Separate entrance from the main dwelling
A mother-in-law suite may also include:
A kitchenette
Dedicated laundry room and appliances
Many Definitions, Many Applications
An addition over the garage offers plenty of possibilities. If it isn't used as a permanent residence for an elderly parent or adult children, the finished, functional space can also be used as a home office or gym.
Homeowners may also invest in a mother-in-law suite to welcome guests. With the rise of short-term vacation rentals, a mother-in-law suite serves as an additional source of income that may recoup the initial investment in the long term. One survey from 2019 indicated that travelers now prefer Airbnb or VRBO-style rentals over a traditional hotel stay.
Bringing Generations Together
Mother-in-law suites are growing in popularity, but it isn't just the Airbnb effect. According to one study, roughly 41% of Americans in the process of buying a home want or need to accommodate an elderly parent or an adult child. That means having plenty of space—and especially private space—is a premium for both current and prospective homeowners.
Converting a Garage into a Mother-in-Law Suite
As you begin the remodeling process, there are three main factors to consider. Remember, Daniels Design and Remodeling can help you every step of the way, including:
Permitting – City or townships will require building permits for a garage addition. Most ordinances will have requirements or restrictions based on square footage, electricity, fire egress and how close to your property line you can build.
Utilities – In most cases, your garage doesn't have plumbing or an HVAC system, so you'll likely need to work with an architect who can design those elements into the remodeling plans. These challenges are less difficult to overcome for projects involving garages that are attached, which makes it much simpler to tap into existing nearby HVAC and plumbing infrastructure.
Must-Haves – Depending on your short- and long-term plans for the mother-in-law suite, make a list of attributes that will play an important part in the design process. For example, if the renovation is for an elderly loved one, make sure you can address mobility issues today and potentially in the years to come when a ramp might be safer than stairs.
These days, considerations like Wi-Fi, internet and cable access are also worth building into your plan.
Designing a Mother-in-Law Suite
Many important design elements of a mother-in-law suite match the considerations of anyone looking to build safety and independence into their remodel. We often point out the importance of certain priorities to keep elderly loved ones safe and comfortable.
Excellent Lighting
Combining natural and artificial lighting improves mood and increases visibility for those who may have issues seeing in low-light conditions. Designing windows and divided spaces to maximize natural light can have a wonderful effect on the space.
Safe and Accessible Bathroom
The bathroom is one of the most dangerous rooms for seniors living by themselves. Be sure to include grab rails and textured non-slip surfaces to avoid falls.
Curbless Showers
If you're adding a full bathroom or half-bath, opt for curbless walk-in showers with grab bars installed. Not only is the design modern and trendy, but it's also a safer way for seniors to access the shower.
Bring Your Family Home with Daniels Design and Remodeling
Whether your Northern Virginia mother-in-law suite is for an aging parent or is an investment in your own financial future, the experts at Daniels Design and Remodeling are ready to help. Hundreds of satisfied customers attest to their positive experience with our in-house team of expert architects, designers and craftworkers. Schedule a conversation today.