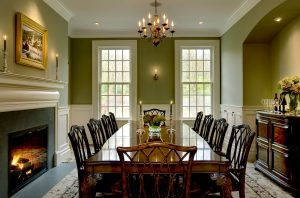 The holidays are right around the corner and that means it's time for the formal dining room to take center stage. It's the place where everyone gathers to enjoy delicious family meals, celebrate holiday traditions, and have great conversations. If you don't have a formal dining room in your home yet, put it on your wish list as your next Northern Virginia home improvement.
A room dedicated to eating and celebrating
In its purest form, the dining room is a temple to the act of enjoying a fine meal. A gleaming dining room set that was passed down through generations may be its central feature. Dining rooms include enough room for a table and chairs which slide back comfortably, and often have chair rails as an architectural feature. There is a central overhanging lighting fixture over the table area, and the room may include a fire place or decorative features like crown moldings.
Multi-purpose dining rooms
While formal dining rooms are great to have, not everyone needs to use it as a dining space every day of the year. Some dining rooms may only be used a few times a year, so many families choose to re-purpose the room while it's not in use. A very easy option is to use your formal dining room as a home office. Use the large table as a desk, take away all but one chair and you're done. Dining room storage pieces are naturals for doubling as office storage, and you can tuck essentials like printers and supplies out of sight.
You could also turn it into a guest room by installing a Murphy Bed and doors. It makes a perfect space to dedicate as a homework spot or study area. Add shelves with books and it becomes a library. Another option is to push the table to the wall and use the space as a kids playroom when not in use for formal meals.
Ideas if you don't have a dining room
If you are still dreaming of your formal dining room, there are alternatives while you wait for your addition or renovation project. You can carve an entertaining space out of the kitchen by putting an expandable table to use, and having a dedicated overhead light fixture. You can also enlist your kitchen island into service.  A farm table can be placed in the living room for a cozy dining area, and you can use the table for display when not in use.
Whether you want a dining room that is maintained all year for nothing but dining, or want to use your dining room for other purposes when the holidays are over, a formal dining room is a wonderful addition to any home. Call Daniels Design and Remodeling today to talk about how we can make your holiday dining room dreams come true.