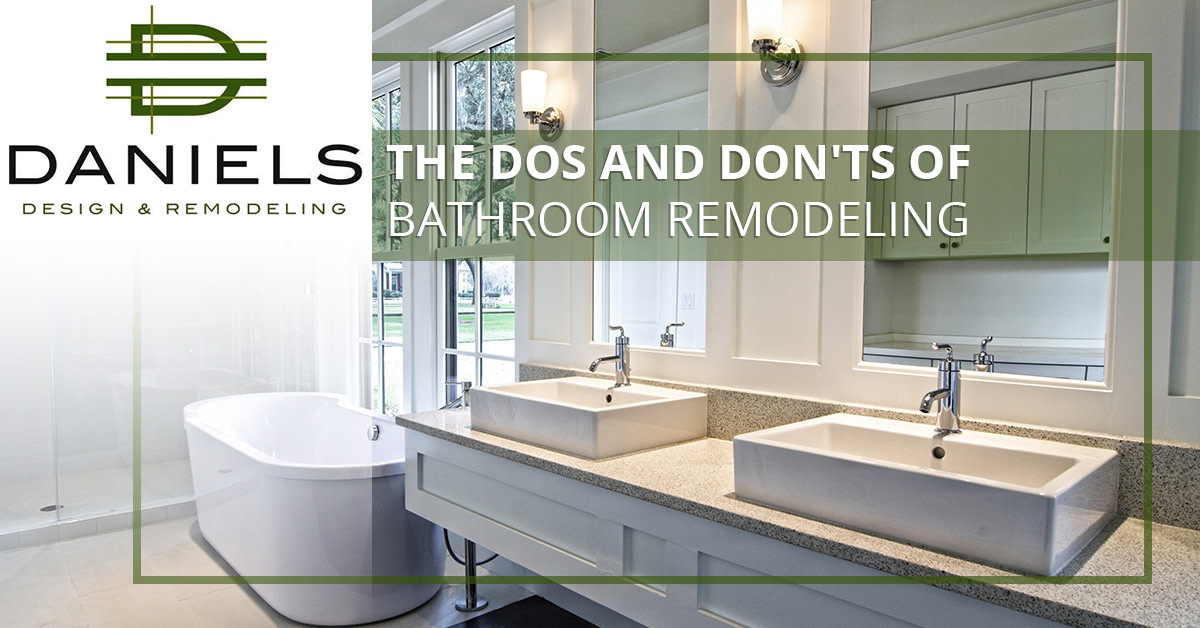 Are you planning to remodel your bathroom in the near future?
When you want a remodeling project that will add value to your home and enjoyment to your life, a bathroom renovation is the way to go. In terms of cost vs value, bathroom remodeling is a solid choice. According to the Cost vs Value Report for our area, you could recoup almost 65 percent of your investment in added value to your home. But in order to reap the benefits of a bathroom remodel, it needs to be successful, and there are many dos and don'ts to keep in mind for a successful bathroom renovation.
Do make room in your budget for the unexpected.
Do hire the right remodeling contractor.
Hiring a remodeling company is the first step towards a successful bathroom renovation, but not just any remodeling company will do. There are so many companies out there promising the best results, but not all of these companies are trustworthy or honest. That's why you need to ensure that you hire the right contractors for the job. Here are a few things to consider when hiring a bathroom remodeling contractor:
Are they licensed and insured?
What do their references say?
Do they have experience?
Can they handle every aspect of your project?
Don't overestimate your own skills and abilities.
One of the biggest mistakes homeowners make when upgrading their homes is to attempt to handle every aspect of the project themselves, even if they don't actually have the skill or knowledge to do so. We understand the temptation to make this mistake. After all, it can be pricey to hire the right contractor. But, any time you are planning to work with plumbing or electricity in your home, it's essential that you hire a professional if you do not have the appropriate qualifications. If you make a mistake, not only will your project cost a lot more in the end, but you may put yourself or your family in harm's way.
Even if you hire the perfect contractor for your bathroom renovation, chances are, there are going to be one of two unexpected expenses along the way. Surprises are common in any home remodeling project, and if you want to avoid spending more than what your budget allows for, you need to make some wiggle room in your budget for those surprises in the first place. You'll never know what your contractor will find when they tear up the floor or open up the walls, but you can help to plan for these surprises by asking your contractor to watch out for any sign of costly problems, such as code violations or expensive damage.
Don't skip the design step.
You might be surprised at how many people will take a sledgehammer to the walls in their bathroom without ever having any kind of real idea of what the finished bathroom should look like. Don't make this mistake. Before you do anything, including coming up with a budget, you need to know exactly what you want out of your bathroom. A good place to start is by getting a few ideas by surfing the internet. Once you have a general idea, talk to your contractor about it. They can help you come up with a design plan, and from there you will be able to get a clearer idea of what your budget will need to look like.
Do take steps to conserve water and save energy.
When most people think of bathroom renovations, they think of adding a nicer bathtub, more storage or updating the design. But, while you're doing all of these things, you could also make your bathroom more environmentally friendly and cost effective by making upgrades that help to save energy and conserve water. These upgrades will help you save money on a monthly basis, and they may even make your home more attractive to buyers when you're ready to sell.
For bathroom remodeling in Northern Virginia you can feel good about, work with the experts at Daniels Design & Remodeling. And, make sure that you stay tuned for our next blog to learn a few more dos and don'ts of bathroom renovations.