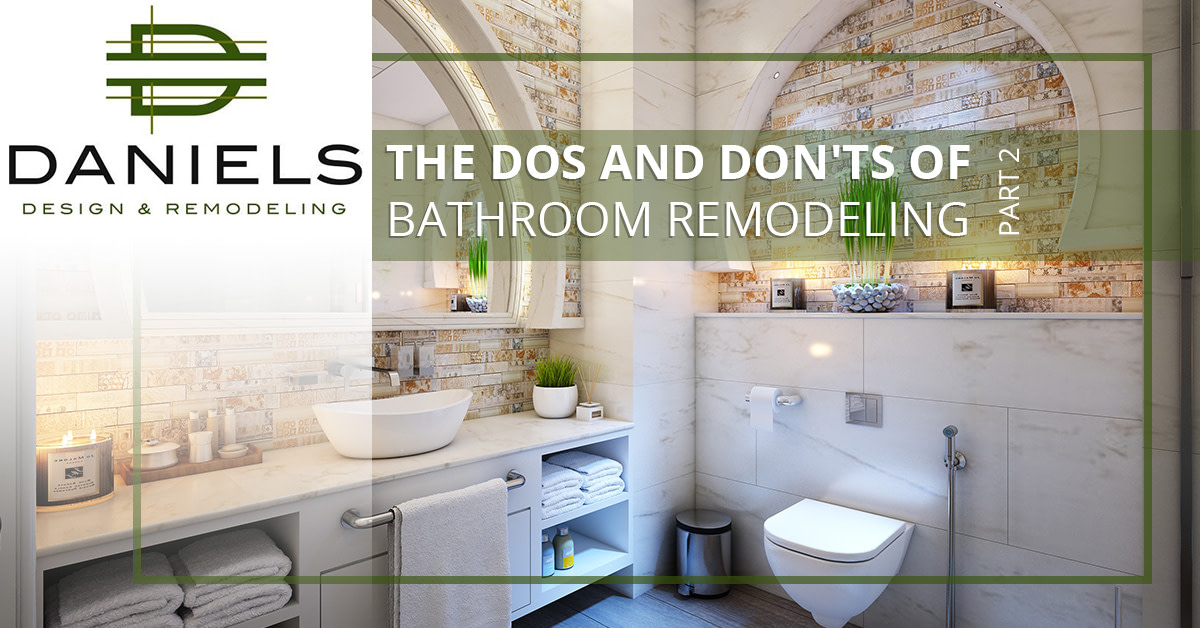 There are many dos and don'ts to keep in mind for your upcoming bathroom remodeling project.
Bathroom renovations can be expensive, and if you want to ensure that yours is a success, you need to take the right steps in order to make it so. At Daniels Design & Remodeling, our goal is to earn your satisfaction in everything we do, and that includes your bathroom renovation. That's why, in our last blog, we touched on some of the most common dos and dont's of bathroom renovations. Keep reading to learn more bathroom remodeling dos and dont's to keep in mind for your next bathroom remodeling project.
Do design your remodel around the current plumbing and ventilation.
If at all possible, you shouldn't plan to move the plumbing or ventilation in your bathroom for your remodeling project. There's a good chance that you can get the upgrades you want without taking these drastic steps, and your budget will thank you if you are able to achieve the results you want without touching the ventilation or plumbing. Why? Because, in terms of functionality, there are no other parts of your bathroom more important than the ventilation and plumbing, and a surprise plumbing issue could add hundreds or even thousands of dollars onto the price tag of your project. If changes must be made to the existing plumbing or ventilation, make sure that you add in plenty of wiggle room in your budget and hire a professional to get the job done.
Don't skimp on the shower.
There's a focal point — or an element that is designed to draw the eye — in every room, and there's no better focal point in a bathroom than a beautiful shower. While bathtubs used to be popular, in this day and age, luxurious showers are some of the most sought-out features for home buyers. So, when you're remodeling your bathroom, take the time to take your shower to the next-level. Whether you install multiple shower heads or you include a modern design in your shower, it will make a huge difference in the final results of your remodel. This is an upgrade that will add enjoyment to your life and could help you sell your home faster down the road.
Do maximize your bathroom storage.
When you're designing your ideal bathroom, it's all too easy to forget about storage. After all, you're focused on that amazing waterfall shower head or the his and hers sink that will finally mean you have your own space to get read for work in the morning. But, storage is one of the most important aspects of your bathroom, and you'll be kicking yourself if you don't include plenty of it in the final design. Luckily, adding storage doesn't have to mean building a bulky cabinet. There are plenty of storage opportunities you could take advantage of, like built-in shelving in the shower or a cabinet hidden behind the mirror.
Don't forget about bathroom safety.
Did you know that, in terms of accidents involving slips and falls, the bathroom is the most dangerous room in your home? According to the Centers for Disease Control and Prevention, approximately 235,000 people who are 15 years old or older go to emergency rooms due to bathroom-related injuries every year, more than a third of which occur while individuals were showering or bathing. But, there's a lot you can do to make your bathroom a safer place during your remodel. You could install handrails next to the toilet and in the shower. While these safety devices are more common in homes with elderly people, they are an important safety measure for people of all ages. It's also important to install slip-resistant flooring, and make sure that you place a non-slip mat in the shower.
We hope that these dos and don'ts will result in a bathroom that is functional, safe, stylish and everything you've imagined it could be. If you're ready to take the first step towards remodeling your bathroom in Northern Virginia, then it's time to contact our experienced contractors at Daniels Design & Remodeling. We've been your premier remodeling company since 1997, and there's no bathroom remodeling project too big or too small for our team. Contact us today to get started!