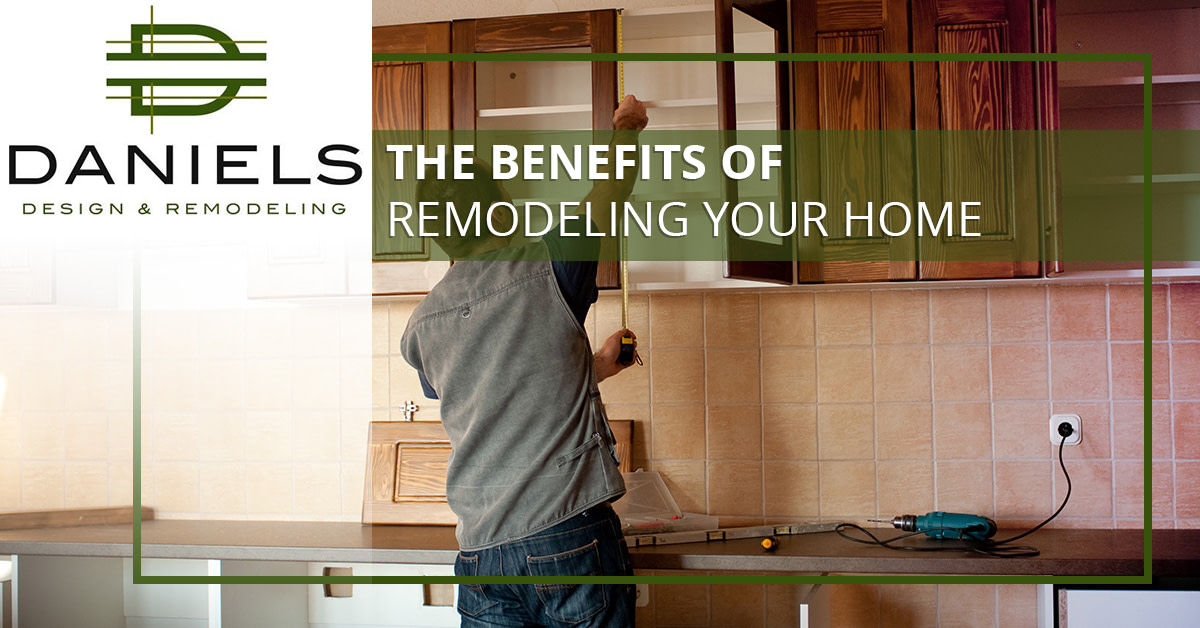 Regardless of why you're considering remodeling your home, it comes with many benefits.
Maybe you're planning on selling your home in the near future, and you are remodeling to ensure that you get the best possible price on your home. Maybe you're adding a new little one to your family, and you're remodeling to give yourself some much-needed space. Or, maybe you're interested in remodeling because you live in an older home, and it's time to bring it into the 21st century. There is a number of reasons to remodel your home, but no matter the reason, remodeling is beneficial in so many ways! Here is a list from one of the most experienced remodeling companies in Northern Virginia — Daniels Design & Remodeling — of just a few of the many benefits that come with remodeling your home.
#1. Remodeling can add value to your property.
With every investment you make — whether it's an investment in stocks, a start-up company or even your home — the goal is growth. When it comes to your home, there are many things that affect its value that you can't control. But, there is one big thing that has a huge effect on value that you can control, and that's the way your home looks. Remodeling helps to enhance the aesthetics of your home, making it stand out from the other properties in your area to buyers. In addition to enhancing your home's curb appeal, many remodeling projects also add value to your property, including kitchen and bathroom remodels, home additions and even simple replacements, like a new front door. Even if you're not planning to sell your home in the near future, remodeling will help you enjoy the highest possible return on your investment when you do.
#2. Remodeling can make your home more energy efficient.
Americans have a long list of housing concerns, including safety, privacy and affordability, but energy efficiency tops them all. According to a survey of more than 10,000 homeowners in the United States, not only is energy efficiency the top housing concern, but it's also the most unmet housing concern. Seventy-one percent of homeowners polled said that they were very concerned about energy efficiency, and only about 35 percent felt that their homes were adequately efficient. And, if you're one of the many people concerned about efficiency and unhappy with your home's efficiency, then remodeling is a great option. Remodeling gives you the perfect opportunity to replace inefficient appliances, lighting, windows, doors and other things that are causing your home to be less efficient than it could be. Remodeling your home for energy efficiency will help you save more on your monthly energy bills; plus, remodeling will make your home more attractive to buyers who also care about energy efficiency.
#3. Remodeling can make your home more comfortable.
The everyday technology we use in our homes has completely changed over the last few years, making our homes more comfortable than they've ever been before. Yes, your thermostat will still be responsible for controlling the temperature in your home, but modern thermostats can be controlled using your smartphone, so when the temperature drops below freezing and you're out of town, you can turn up the heat to prevent your pipes from freezing right from your phone. You can also program your modern thermostat to automatically drop the temperature a few degrees when you go to bed at night and leave for work in the morning. The thermostat is just one compelling example of the way that technology has revolutionized homes throughout the United States, adding never-before-seen comfort and convenience. And, if your home is on the older side, there's a good chance that you aren't enjoying it like you could be. Remodeling gives you a great reason to start taking advantage of that kind of technology.
#4. Remodeling can add space to your home.
Your home should be your sanctuary. It should be the one place where you can truly relax and be yourself, where you can stretch out and enjoy a little me-time. But, for many Americans, the idea of stretching out at home is just impossible, because they don't have enough space! Home additions are a great way to add much-needed space to a home that is too cramped and crowded, but an addition is not the only remodeling project that can add more usable space to your home. Kitchen remodels, bathroom remodels and a whole host of other projects can help to make the most of the space you already have. For example, redesigning your kitchen to add more cabinets and drawers will allow you to keep the counters clear. With remodeling, you'll finally have the space you need to stretch out and relax.
#5. Remodeling makes your space your own.
We all have our own wish lists when it comes to what we want in a home. And, if you're like most people, designing your own home in The Sims is the closest you'll ever get to your own custom home. Let's face it, custom homes are out of most people's price range. But, with home remodeling, you can make your space your own without having to go through the arduous process of building your dream home from the ground up. Whether your dream home has heated bathroom floors, an island in the kitchen big enough for hosting board-game night or your very own home theater to make movie magic, remodeling is the perfect way to make your dream home reality.


There are so many reasons to consider remodeling your home, but no matter the reason, there are many benefits that come with remodeling. But, in order to make the most out of your remodeling project, it's important to turn to the right contractor, and that's where we come in. Let us show you why Daniels Design & Remodeling is the best home renovation company in Northern Virginia for the job. Contact us today!