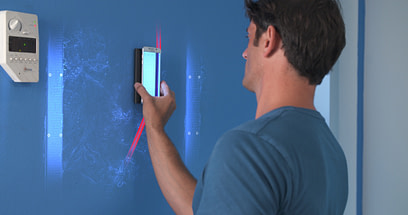 In the past, only Superman could see through walls, but not anymore. An incredible new technology has been created that promises to greatly benefit the home remodeling industry. It's advanced, 3D imaging technology that lets users literally see through solid objects called the Walabot DIY. Walabot DIY has changed powerful and expensive technology into cheap and accessible technology that attached directly to your Android phone. Its imaging capabilities lets you see through anything, even walls, and creates 3D images you can see. It reveals a hidden world all around us that we haven't been able to see, until now.
Concept and Development
The idea for Walabot came about in July of 2014. In less than a year Vayyar, Walabot's parent company, had the first prototype and they realized it had unforeseen abilities. In addition to creating 3D images of what is inside walls and other solid objects, it can be used for sensing objects and people, motion detection, medical imaging, breathing monitoring, fall detection, multi-person tracking, liquid analysis, and the list keeps on growing.
In September of 2015, they revealed the Walabot DIY with its cell phone jacket, and the world was changed forever. Vayyar's co-founder Raviv Melamed observed, "We soon realized that our sensors can be used in multiple markets – more or less in every scenario where non-destructive testing and the ability to detect different anomalies in an object is needed." With Walabot DIY, you can see through everything from a foot of concrete to a glass of milk.
Advanced and Ultra Portable
All of this incredibly detailed imaging technology fits right in your hand. It attaches to your Android phone, to be more exact. Walabots turn smart phones into this advanced 3D imaging technology in a few seconds. It was a huge hit at the 2015 Makers Fair, and won the Editor's Choice Award.  When Vayyar unveiled the sensor at CES in January of 2016, it was declared to be among the top 10 tech at CES.
Available Now
The Walabot DIY was released in April of 2016 to wide public acclaim. Builders, makers, hobbyists, doctors, and more are continually finding new uses for this ground breaking technology. Looking through walls isn't just for Superman anymore. Walabot DIY lets anyone reveal the hidden world all around them. Daniels Design and Remodeling is proud to be using this most advanced new technology on all our projects.