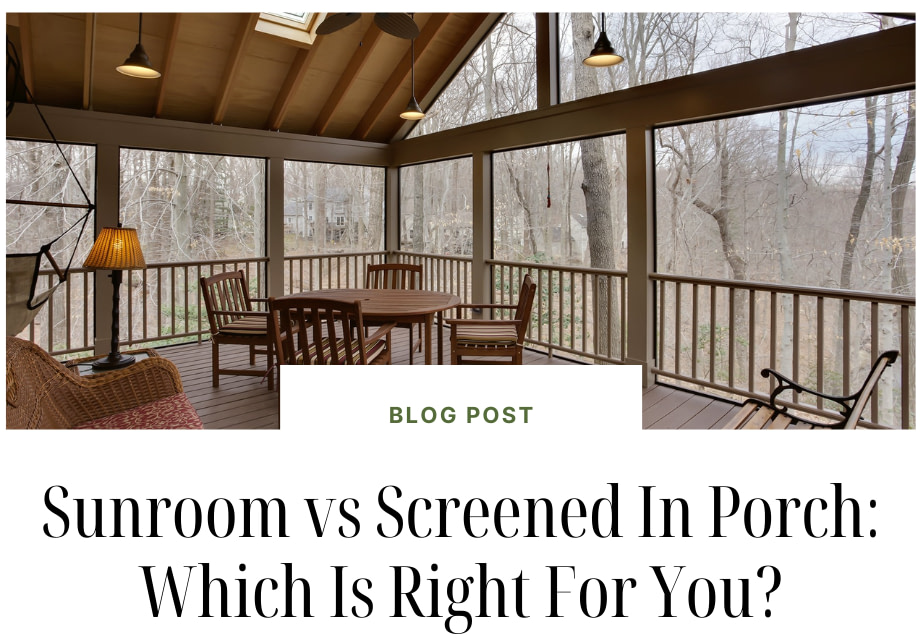 The best way to enjoy a Northern Virginia summer is outside. If you're considering a sunroom addition or a new screened-in porch, understanding the benefits and drawbacks of both options is essential. Enjoy dinner with friends and family, sip your morning coffee, or escape the mosquitoes with a space that blends the best of both indoor and outdoor living.
Why Build a Sunroom or Screened-In Porch?
Adding outdoor living space is an excellent way to increase property value, create space to entertain guests, and spend more time outdoors. Our mild climate makes an outdoor living space a desirable investment. An insulated sunroom serves as a "three-season room" that increases the square footage of your living space without substantially increasing annual heating or cooling expenses.
What Is a Sunroom? Is It Right for Me?
First, a definition. A sunroom is a permanently roofed structure with finished walls. In most cases, sunrooms incorporate substantial glass windows or panels to enhance the view and utilize natural sunlight. The size, design, and construction decisions can be made based on the expected needs of the homeowner.
Considerations include:
Do you need to insulate your sunroom?
Do you need electricity in your sunroom?
Do you plan on adding heat or air conditioning to your sunroom?
We recommend homeowners include both electricity and HVAC systems in their builds. Our designers know the local sunroom electrical requirements for permitting and inspection. We find that adding AC and heat allows homeowners to reduce seasonal limitations, allowing homeowners to use their new space, year-round.
When you work with our team, you can rest easy knowing we'll handle the permitting process, ensuring your new space meets all local requirements.
The Benefits of a Sunroom Addition
Year-round use
Extra living space or storage space
The Drawbacks Associated With a Sunroom Addition
Bigger investment
May affect home insurance and property taxes
What Is a Screened-In Porch?
A screened-in porch is a roofed structure, much like a sunroom. Instead of finished walls, a screened-in porch uses mesh or wire screens to keep bugs and pests out. While this makes the cost of the addition substantially less than that of a sunroom, it has its limitations. Specifically, screened-in porches aren't designed for year-round use.
Some considerations for homeowners include:
Do you need a year-round space?
Do you need electricity?
How often would you comfortably be able to enjoy your screened-in porch?
Screened-in porches won't need HVAC connections, but most homeowners opt to have at least one or two electrical outlets installed for lighting entertainment services.
Screened-in porches require the same permitting as sunrooms.
The Benefits of a Screened-In Porch Addition
Lower upfront costs
Easier to built
The Drawbacks of a Screened-In Porch Addition
Seasonal use only
Less secure than a sunroom
Choose Daniels Design and Remodeling for Screened-in and Sunroom Additions in Northern Virginia
Still not sure whether a screened-in porch or sunroom is the right choice for you? We'll work with you to develop a feasibility study that will help you make an informed decision on your next home remodeling project. This study will include a detailed cost analysis based on your unique needs.
Let us create the perfect screened-in porch or sunroom addition for your space. Schedule a conversation today and let's get started.