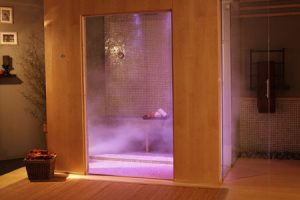 Are you completely stressed out from holiday preps? An ideal solution for stress relief and luxury is to install a steam shower in your bathroom. To chase away the chill of winter, or let your tension go after a long, hard day, there is nothing like a steam shower. When you add a steam shower to your Northern Virginia bathroom remodeling project, you'll appreciate it for years to come. It's a small change that can make a big difference in your everyday life.
What are steam showers?
Steam showers are an enclosure that is moisture sealed and sends clouds of steam inside. Steam showers can be used before, after, or even during your regular shower. They look just like a regular tiled walk-in shower, but they have a digital control panel that lets you fill the enclosure with soothing steam. You can even go for the total spa treatment by adding mood lighting, an mp3 dock for relaxing music, and a separate pump for aromatherapy oils to come through.
How does it work?
Cold water is heated to the boiling point in a steam generator, which then sends the steam out into the shower stall. Steaming for 20 minutes uses only 2 gallons of water, which is much more environmentally friendly than a regular shower. Even with a low flow shower head, showering for 20 minutes usually uses up to 50 gallons.
Health benefits of steam
There are many fantastic health benefits to a steam bath, which have been in use for centuries as an aid for relaxation and to flush out toxins. Steam showers deep cleanse your skin, increase your metabolism, relaxes muscles, soothes the mind, eliminates toxins, relieves allergies, relieves arthritis, boosts your immune system and more. Steam showers also lower  your blood pressure and reduces chronic pain. It is a home renovation that is well worth the investment.
Don't let the holidays get the best of you next year. The professionals at Daniels Design and Remodeling will professionally install your new steam shower, and bring the spa right into your home. Call us today to schedule a conversation about how to add a steam shower to your Northern Virginia bathroom remodeling project.