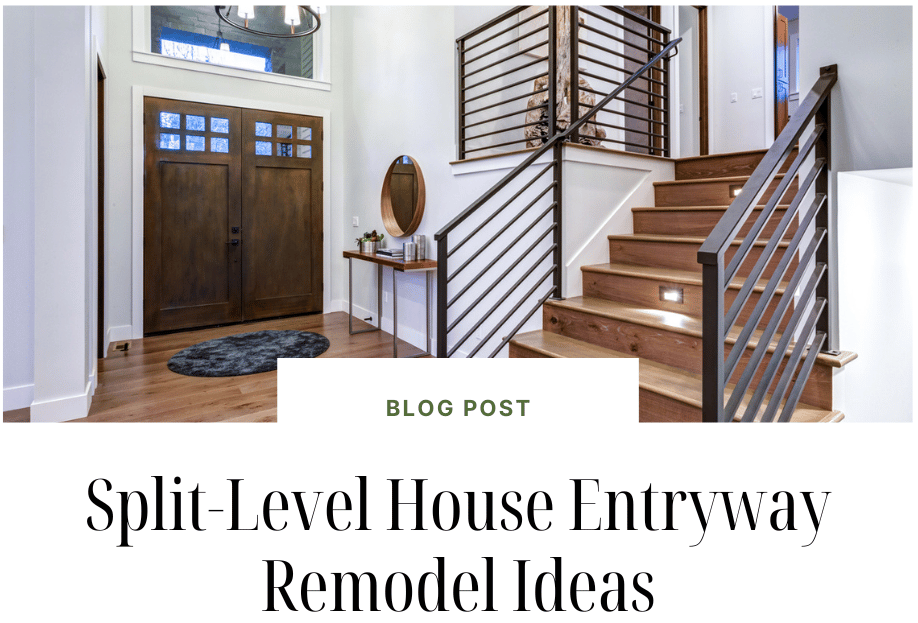 Split-level homes offer many benefits, especially for those homeowners who want to clearly delineate public and private spaces. In practice, however, split-level entryways can make it feel cramped and uncomfortable while welcoming guests. They can also effectively close off the space to the rest of the living area.
To create a more inviting foyer, consider a comprehensive split-level entryway renovation.
What Is a Split-Level Home?
Common in suburbs around the country, split-level homes blur the line between single and multi-story residential home designs. Perhaps the best way to define a split-level home is that no single floor covers the entire footprint of the home. In most cases, the kitchen and living space are on one floor, with a short stretch of stairs going up to bedrooms or bathrooms and another set going down to a basement or lower level. Each of these floors may overlap slightly, but they aren't "stacked" layer-by-layer like a multi-story home.
Split-Level vs. Bi-Level Home Designs
A split-level home always has at least 3 floors. A bi-level home only has two levels. For homeowners looking to remodel, the difference is subtle but may inform the direction of your home remodeling project. Both designs were popularized by the famed American architect Frank Lloyd Wright. By the 1950s, suburban homes around the country went all-in on the space-saving floorplans. These designs were also an effective way to mitigate the need for excavation of uneven ground.
Split-Level Entryways: Making a Choice
Common in both split-level and bi-level homes is the split-level entryway. Also known as a split-level foyer, this entryway design includes a small landing at the front door. Guests then must choose between going up a short set of stairs or down a short set of stairs to access other parts of the home.
The Benefits of a Split-Level Entryway
This design does offer perks:
Privacy – In most cases, this foyer design keeps both the upper and lower levels of your home just out of view. This increases privacy and clearly separates public and private spaces.
Reduced clutter – On the flip side, this design also keeps jackets, bags and shoes out of sight from the vantage point of the living space for a less-cluttered feel for guests
The Drawbacks of a Split-Level Foyer
It also has some residual negative side effects:
Small space – The landing of these types of foyers can be small and cramped, especially if more than one or two people are coming through the door at once.
More clutter – Ironically, while making your guest areas seem cleaner and more orderly, that limited space in the foyer can quickly lead to clutter collecting near the door. Without adequate and convenient storage space, entryway coats, shoes and other items can pile up quickly.
Uneven heating and cooling – Another drawback of split-level homes is suboptimal airflow. The multiple levels of the home can trap warm air on the upper floors and cool air on lower levels. Split-level entryways can make this difference in temperature even more pronounced.
The Best Ways to Remodel a Split Entryway Home
Renovating a split-foyer presents challenges. Like any home remodeling project, the key is to have a clear goal in mind. That includes considering extending the remodel beyond your entryway to include other spaces in your home. A full split-level entryway addition might make more sense depending on your goals.
Depending on your needs, some of these ideas for split-level entryway remodeling might work well for your split-level home:
Establish a "main" level and create an entryway accordingly – This might include building a patio or deck with a short flight of stairs or moving earth to create an entryway on a lower level. Designating a primary floor and living space allows for a larger, more unified space for entertaining.
Account for window height – One of the challenges of converting a split-level entryway is windows. Choosing a primary floor may create an imbalance; windows on a lower level may suddenly seem vertically out of place; in a sense, they may not appear to be "level" with other windows. There are solutions to this, ranging from walling off the window entirely to utilizing landscaping to accent the home's new exterior.
Take the remodel further – Extend that same remodeling design into other areas of your home like the kitchen and living space to create a large open floor plan that makes entertaining convenient.
Deciding on which route to take depends on your priorities for the foyer remodel, which might include:
Increasing the market value of your home
Creating more space to entertain guests
Reducing the number of stairs in your home to make it safer for seniors or those with mobility concerns
Once your goals are in place, work with a trusted designer who knows how to convert a split-level entryway or explore other options for remaking your space.
Explore What's Possible with Your Next Foyer Renovation
The expert designers at Daniels Design and Remodeling can renovate your entryway to suit your needs and make your home reflect your tastes and lifestyle. For nearly three decades, we've offered Northern Virginia homeowners exceptional remodeling services. See what's possible: contact us today to learn more.