Spice Up Your Bathroom Remodel
The options are endless when it comes to remodeling your bathroom in Ashburn, Virginia, from a wide range of material choices and an assortment of color palettes, to different layouts and styles. Mixing and matching can be fun for sure, but don't overdo it or you will be left with a cluttered mess. Who knew your smallest room could offer so many possibilities? Let's take a look at a few tips that might help spark a little inspiration or offer a bit of guidance for your upcoming bathroom remodel.
Break the mold
We all know and love the standard crème-colored walls and slick white surfaces of the traditional bathroom, but why not try something new? There are tons of gorgeous bathrooms out there that make use of dark oak accents to introduce a different element into the space. Or, maybe a more modern look is something that interest you, using a black and white theme to liven up the area. You can spend hours s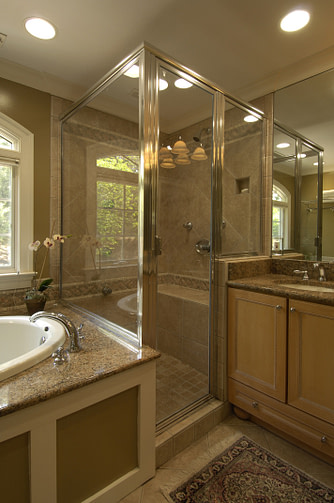 canning the web for design ideas; just don't be afraid to try something you haven't seen before.
Making room
A pedestal sink is a great way to save space, and really open up some extra area for smaller bathrooms. However, it will probably mean sacrificing some cupboard space. Luckily, this can be compensated for with some additional creative storage shelving. If adding more shelving just isn't for you, a simple solution for a claustrophobic-feeling bath is to brighten up the space with a lighter, more chromatic color choice for the walls.
Letting in the light
Balancing between privacy and natural light can be tricky, but doesn't have to be impossible. Opening up a bathroom space is made much easier with a small skylight that lets the natural Ashburn, Virginia sun shine in while maintaining your personal space.
Don't forget the extras
Put together a must-have list for your bathroom remodel. Soap shelf? Check. Ample storage space? Check. Towel racks? Check. It is too easy to forget something until it's too late to work it into the overall plan, and so staying on top of all your necessities means doing yourself a major favor. Whether that means an extra-wide mirror, or a spot to fit a dish of little hand soaps, is up to you.