Six Things to Consider Before You Remodel a Bathroom 
Remodeling jobs are always an exciting and yet daunting time for any homeowner. Often times, however, the process of altering a room or adding an addition can become an exercise in frustration as the communication between homeowner and contractor ends up being less than ideal. In many instances, that lack of communication is the direct result of inadequate homeowner planning. Take the average bathroom remodeling job,for instance. Without considering crucial details beforehand, homeowners often end up frustrated throughout the remodel job. Here are five vital things that you should consider prior to turning your job over to a contractor in Arlington, Virginia.
Consider the Space
The size and layout of your bathroom ultimately plays a large role in what any contractor can successfully do with it. Is it a small room, or a large area? Does it feel cramped or open? An honest assessment of the area can help you to focus in on the possible while avoiding the frustration that comes from having your plans go unrealized.
Focus on Harmony
It is often tempting to try to make any remodeled area a showcase spot in the home. That seldom works, however, if the room's décor is so out of balance with the rest of the house that it seems out of place. While you should personalize your bathroom, try to maintain the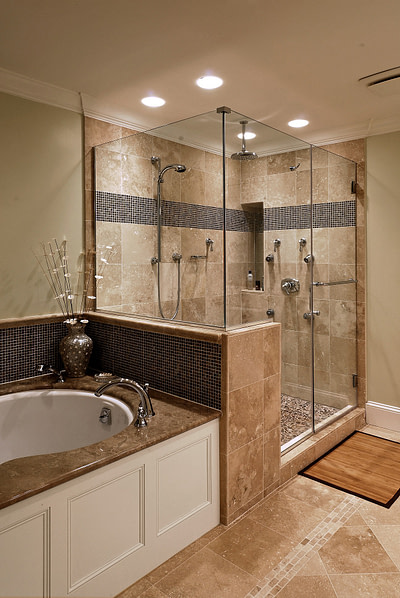 harmonious flow between its décor and that of the other rooms throughout the home.
Think about Longevity
Your bathroom, like your kitchen, is one area of the home that should be designed for longevity. Something that is "in" today may be considered gaudy tomorrow. So, when you select fixtures, tiles, and color schemes, try to avoid trendy choices that probably won't stand the test of time. When it comes to the bathroom, classical themes still work.
Think "User-Friendly"
The bathroom may be a place you only step into several times a day, but that doesn't mean that your experience there should be a chore. Try to incorporate elements that increase the user-friendliness of the area. His and hers areas can be a great option for larger rooms, while well-organized storage areas are vital for bathrooms of any size.
Moderate Your Zeal for Luxury
It costs money to have a contractor remodel your bathroom. That does not, however, mean that you should forsake all luxury features. To control your budget, simply pick one or two luxury features – like a rainfall shower, for example – that you can add to give you that luxurious feeling whenever you're in the room.
The bottom line is that you have to consider these important areas of concern if you are to develop a realistic plan for your contractor to execute. Even the best Arlington, Virginia contractors cannot perform miracles, but they can provide you with the bathroom remodeling of your dreams as long as your dreams are within the bounds of possibility and your plan is the result of careful consideration of your wants and needs.