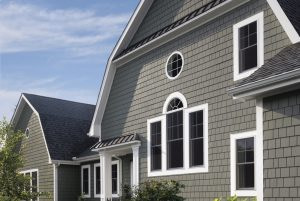 If you are looking to add value to your home, re-siding it is a great place to start. Re-siding reduces your energy costs and can change the look of your home entirely, adding a large amount of curb appeal. There are many different siding options to choose from, including vinyl siding, fiber cement, clapboards and shingles. What you choose depends on the architectural style of your home, your neighborhood, and your climate
Vinyl siding
Vinyl siding has come a long way, and there are now many upscale options to choose from. A popular new choice is foam-backed vinyl, also known as foam-core vinyl siding. This siding creates a solid foam barrier directly against the house. This makes is more energy efficient and weather resistant. Today's vinyl siding can be made to have the appearance of wood, without the maintenance that comes with wood. Vinyl is a low maintenance product, which makes it the most popular choice among home owners and contractors.
Fiber cement
Another very durable choice is fiber cement siding. Like vinyl, it can be made to look like wood or any other type of texture. It is exceptionally strong and moisture resistant. Since it can withstand winds up to 200 miles per hour, it is an excellent choice for hurricane prone areas. Fiber cement can be made into architectural panels, lap siding, shingles and shakes and trim pieces. The strength are durability of fiber cement is what makes it an attractive choice for many homeowners.
Wooden clapboard
Clapboard, also known as bevel siding, weatherboard, or lap siding, is the right choice if you have a historic home that needs to maintain its traditional integrity. If your home currently has clapboard siding, sometimes the best choice is to repair and replace only damaged areas, and then re-paint the exterior. If you choose to entirely re-side your house, the experienced contractors at Daniels Design and Remodeling will purchase the right, quality clapboards, prime all the cut ends with oil based primer, and install them over an approved house wrap. It's important to hire contractors with experience in dealing with historic houses on projects like these.
Re-siding your home is a great investment because it immediately brings up the quality of your home. It increases curb appeal and adds a new level of energy efficiency. Call Daniels Design and Remodeling to get started on your re-siding project today.