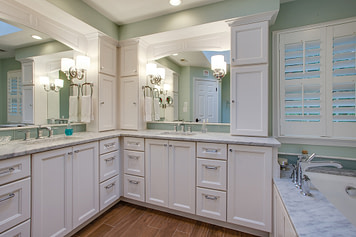 Your home is your biggest investment, and it's one that can keep growing. Whether you're staying in your home long term or looking to get the best sales price, it's always wise to make improvements that are going to boost your home's value. When you are a homeowner in Northern Virginia, kitchen and bathroom remodeling are the top ways to increase the value of your home. Northern Virginia and the suburban Washington D.C. area are popular for many reasons like the  great job market, top notch school districts, fantastic restaurants and beautiful scenery. Loudoun and Fairfax counties are the two richest in the country. In the hot housing markets in these areas, a kitchen or bath remodel will usually bring you more than a 100% return on the cost.
In the kitchen, the best way to get the most bang for your buck is to stick with traditional elements. These include wooden cabinetry, tile or stone flooring, and stone countertops. A beautiful, custom designed kitchen island is also a must. Using these tried and true features mean your kitchen will stand the test of time. It is modern and updated without being too trendy. Your designers at Daniels Design and Remodeling can work in some of the latest features and design spaces for new, energy efficient ones.
Bathroom remodeling always increases your home's value, and little details go a long way. Top quality faucets, granite countertops, wall mounted lighting and heated floors all are investment that will pay off. It's also smart to include a luxury shower with stone or ceramic tiles and a variety of shower heads. Floating vanities are another popular upgrade that instantly add a luxury feel and a sense of space to the bathroom.
Northern Virginia kitchen and bathroom remodeling is a great way to increase the value of your home, and improve the quality of life for the entire family. Start a conversation with Daniel's Design and Remodeling today about remodeling and updating your kitchen and bathroom. They are both great choices  increase the value of your home and get the best return on your investment.