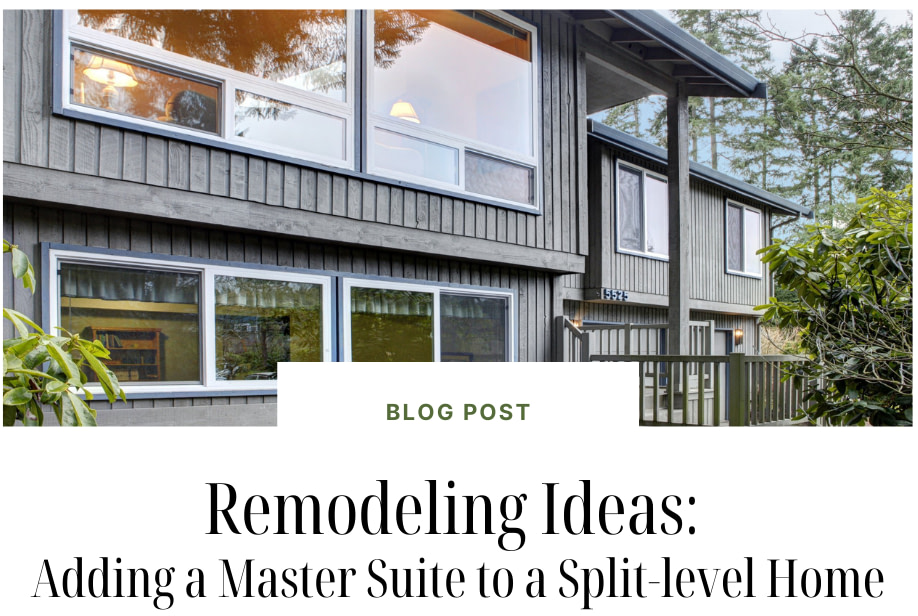 Split-level homes were a common architectural choice for more than 30 years in the US. While split-levels offer many advantages, owners often choose to remodel or add on to their split-level homes to improve functionality and adapt to changing needs.
One of the most consistent discussions we have with clients involves crafting a master suite addition for a split-level home.
You can certainly add on to your split-level home, but the process takes experience and collaboration between homeowner and designer. Here's how we can help …
What is a Master Suite, Anyway?
A master suite is a large bedroom with an attached private bathroom. The accompanying private bathroom marks the distinction between a master suite and a master bedroom.
Both a master bedroom and a master suite provide the largest bedroom space in the home, which offers ample room for a large bed, multiple dressers or armoires, reading chairs or desks, or other amenities.
The Benefits of Adding a Master Suite
As the result of a staggered floor plan (no level of the home covers the full dimensions of the home's exterior width or length), split-levels tend to have smaller bedrooms and bathrooms than other homes.
Some of the perks of adding a master suite to a split-level home include:
Room for a larger bed, more dressers and armoires, larger closets or other elements
Additional privacy to your bathroom and shower
A quieter place to relax, read or work (away from busier spaces in the home, like the kitchen and living room)
Related Content: Split-level Entryway Remodel Ideas
Key Considerations for Homeowners Considering Any Split-Level Renovation
In most cases, creating a master suite is a matter of priority and addressing your day-to-day needs.
Give a Little, Take a Little. To increase the size of the master bedroom, you'll likely have to reduce the size of another bedroom. If you need substantially more room, you may need to eliminate the other bedroom entirely. This may impact your ability to host guests overnight and may change the value of your home in the eyes of potential buyers.
How Much Space Is Enough? Every homeowner has different goals with their master suite remodel, but there are some baselines concerning how much to add. For a master bedroom, we recommend a room approximately 14 by 16 feet. To accommodate a small bathroom, plan on dedicating a total remodeled footprint of approximately 20 by 20 feet. Your Daniels Design and Remodeling team will make recommendations on the dimensions and other elements of any home addition project.
Bathroom Cost. One key difference between adding a master bedroom and a master suite addition: cost! If it's not already in place, installing additional plumbing for a master suite bathroom can quickly increase the overall cost associated with your remodel. You may determine that you don't need a private bath as much as you simply need more bed room.
Is Adding an Addition to Split Level Homes Difficult?
Remodeling a split-level home can be more challenging because each level of the home is designed, plumbed and wired to serve a specific function. While making substantial architectural changes within the home's existing footprint presents challenges, there are ways to integrate existing rooms successfully and seamlessly to better suit changing needs.
Some of the most common types of split-level home additions include:
Create Space to Grow with Daniels Design and Remodeling
Whether you're adding a master suite, reimagining your kitchen or exploring other ways to make your home serve you and your family better, the process starts with professional design help. For more than two decades, Daniels Design and Remodeling has been helping families in Northern Virginia shape their homes to meet their needs and tastes. Schedule a conversation with us today.