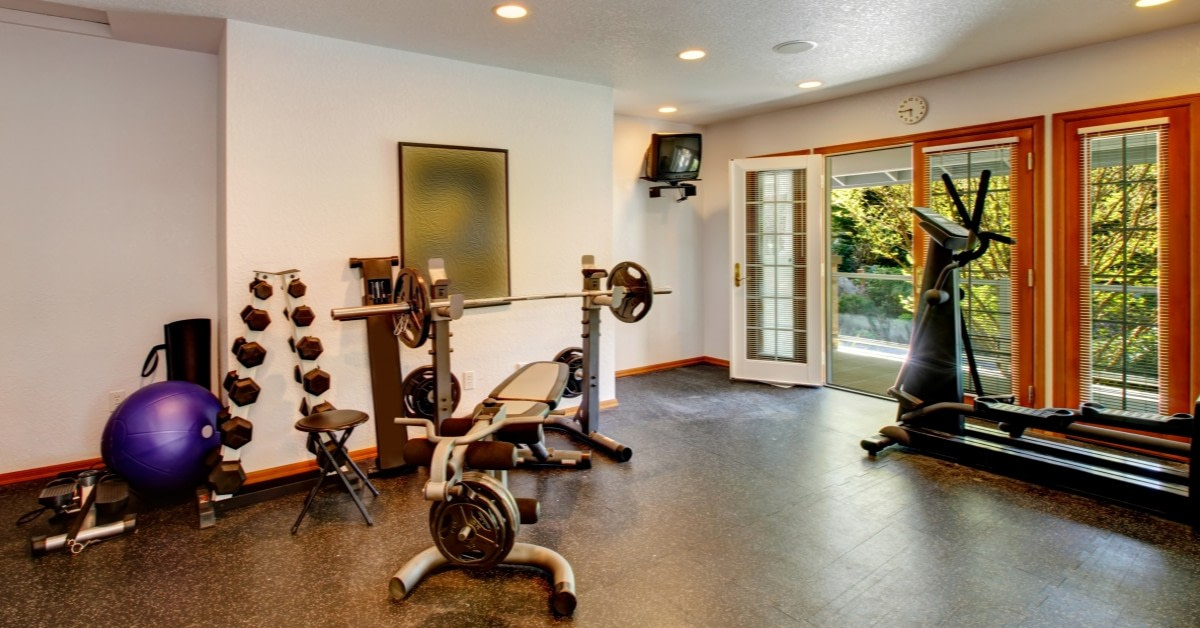 With the changes that have been happening in the world around us, more people are staying around their home and town. More people are working from home, teaching their children from home, and even investing in staycations. Also, more people are seeing the value in a home gym so that they can work out from home. Daniels Design & Remodeling is a home remodeling company in Northern Virginia. We specialize in kitchen and bathroom remodels, home additions, porches and patios, and living space remodels. From turning your living space into a comfortable home office or choosing to create an amazing gym setup, our amazing home builders and designers can help. With over 20 years of experience, our remodeling team can help you bring your vision to life. Below, we'll go over just some of the reasons why you should consider investing in a living space renovation for a home gym. Contact us for a home addition today!
REASONS TO REMODEL YOUR LIVING SPACE INTO A GYM

You'll Have no Excuse NOT to Work Out
Most of us understand the importance of working out, the benefits of exercise, and the way it makes us feel afterwards. However, some of us can't ever manage to make it to the gym. When you have a home gym, your excuses to not work out fade away. Thus, you will be more likely to use your great exercise equipment and get into shape with a home gym. Daniels Design & Remodeling in Northern Virginia is here to help you every step of the way. If you have an unused living space, a home gym is a great option. We can help you design it so you can fit in the most equipment, choose the right flooring, especially if you are dropping heavy weights, and help you choose a ventilation system as well. We want to make your living space design easy. Call today to get started!

Private
Many people want to go to the gym, but they are afraid of being judged once they get there. In fact, a whopping 65% of women and 36% of men avoid going to the gym because of what others will think of them. Plus, a gym can be intimidating when you are surrounded by a lot of fit people who know exactly what they are doing, and you are struggling to figure out a weird machine. A home gym is comfortable and easy. You won't be rushed through sets or cardio for equipment because someone is waiting. You'll have the time to set up your form properly. And you can set the pace. There won't be anyone staring at you, no line for equipment, no distractions, and no music you hate playing or TV shows you can't stand. You can take a break anytime and Google videos on exercises without anyone watching you.

You Choose the Equipment
Let's face it, not all of us like running on treadmills, doing elliptical machines, or trying to figure out fancy equipment that isolates muscles. Perhaps you love to cycle, but the gym's cycling classes are always full, or they don't even have stationary bikes. When you turn your home living space into a gym, you can purchase the equipment that you love and that you'll actually use. If you love dumbbells and kettlebells, you can purchase some of all sizes and get to work. If you want a treadmill, you can purchase the one you want that is tailor-made for you. Once you decide on your gym equipment, Daniels Design & Remodeling in Northern Virginia can put together a living space design that will accommodate your equipment. Perhaps you want a yoga studio installed in your home or a CrossFit style gym. Our living space designers can help you design the gym of your dreams. Call today to learn more!

Convenient
Perhaps the biggest reason to invest in a home gym is the convenience. First, you'll eliminate any commute time, and over the course of a year, depending on your commute, you could save hours, days, or even weeks driving. Next, if you have little kids, dragging them to the gym with you is nothing short of a pain. Most likely you are paying extra for the daycare services. They may cry when you drop them off, and loading them in and out of the car is inconvenient as well. Finally, your gym is open 24/7. You can work out at any time of the day or night. Squeezing in a quick workout while the baby is sleeping is easy when you have a home gym. Your home gym being convenient will also help motivate you to work out more as well. One more benefit of having a home gym: you can literally work out in your pajamas. You can roll out of bed, slip on your workout shoes, and have at it. It truly doesn't get any more convenient than that!

Saves You Money
While it can seem quite expensive to outfit your own home gym since the price of rowing machines, treadmills, and a whole squat set-up can be pricey, in the long run, you'll save a ton of money. Consider what you'll be saving below:
The price of your monthly gym membership (average is around $130 a month)
Gas to and from the gym, as well as wear and tear on your car
Fancy workout clothes that you only buy so you look good for others
Personal trainer fees
Extra services you buy at the gym, such as a smoothies or snacks
Childcare services
Potential late payment fees
Extra fees for extra services, such as CrossFit or certain group fitness classes
Healthcare expenses
The last expense is one to highlight. By having your own home gym in a repurposed living space design you'll be investing in your health. This one is worth at least thousands but to most people, it's priceless. You'll not only help reduce healthcare costs as you age, such as health conditions caused by obesity, but you'll also be increasing your lifespan and staying healthy for your family. That's one expense to save on for sure!


CHOOSE DANIELS DESIGN & REMODELING IN NORTHERN VIRGINIA FOR YOUR LIVING SPACE DESIGN
If you are a homeowner, odds are you have extra living space in your home that is being unused, from your basement to your second story and garage. A home gym is just one of many possibilities that you should consider when looking for a living space design. Daniels Design & Remodeling offers the best home additions and home renovations for every room in your home, including bathroom and kitchen remodels. Our home remodeling process can be broken down into three easy steps: feasibility study, a design selection, and then the actual build of your home remodeling project. Instead of charging large fees upfront and enduring lots of meetings, we'll come to your home, measure, and plan what is possible. Then, our design time will come up with three conceptual designs, as well as materials. This process usually takes less than a month. Once you decide, we get to work building you your dream space. It's that simple! Our mission is to build you what you envision using the highest-quality materials and craftsmanship to achieve your dream design. We employ a whole team of specialists so that you get the best in all stages of your home addition, renovation, or living space design. Our passion is to make your home exactly how you want it, whether we're adding on another bedroom, an outdoor porch or patio, or adding in a home gym. We offer a two-year warranty on our work, and if you're not completely happy with something, let us know. We also love to hear your feedback as the project is developing. Reach out for a free home remodeling consultation today!