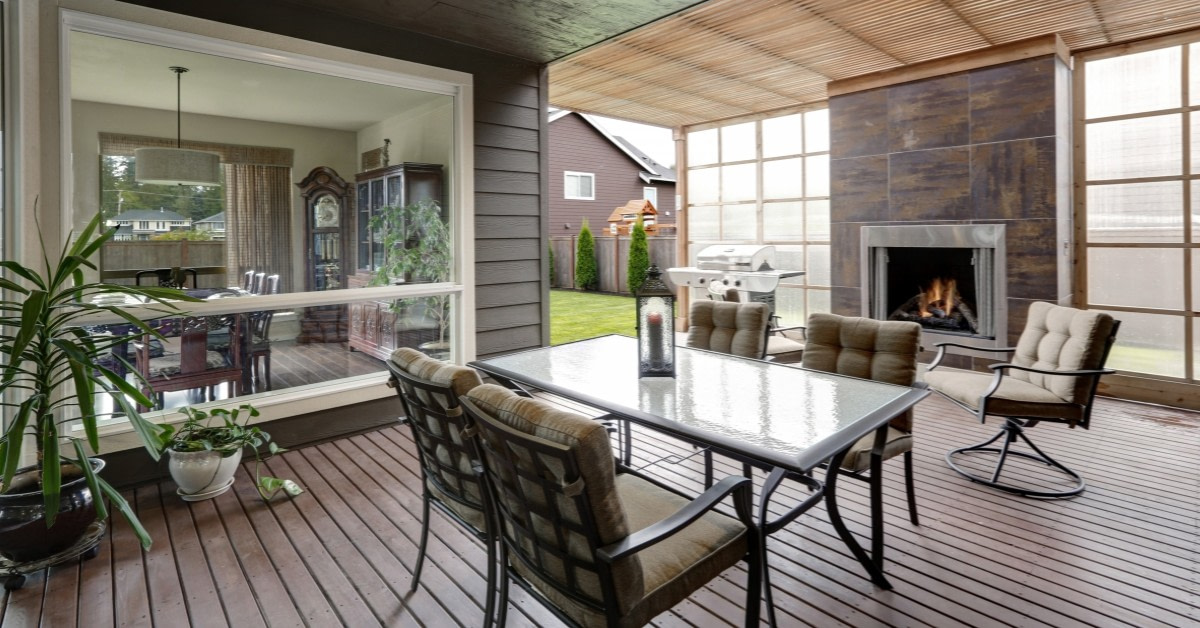 There are days when you just want to enjoy nature without having to drive a long way or leave your home to go for a hike or a walk. Instead, you'd love to grab a cup of coffee or ice water and sit outside, enjoying the natural world all around you. The birds can sing you a beautiful song. The wind will whistle for you, shaking tree branches and creating sweet melodies. A nearby stream will babble at you all day long. A squirrel will chitter; a butterfly may flit by.
However, if it's a chilly spring morning, a rainy summer day, or a crisp fall wind is blowing, your outdoor patio and space suddenly become not as inviting. Instead, you are left with your cup of coffee or your glass of water looking outside from inside your four walls, which doesn't allow you to enjoy nature as it should be enjoyed.
Daniels Design & Remodeling offers a solution to the dilemma Mother Nature often imposes. We offer patio remodeling and renovations, including enclosed patio designs. We can take your patio and convert it to a space of its own by adding in screens, windows, doors, and more. By having a covered patio, you'll be able to fend off the slings and arrows that Mother Nature's whims sling your way easily. Below, we'll take a look at some of the best reasons to add an enclosed patio. Contact our patio remodeling company today!
REASONS TO ADD AN ENCLOSED PATIO
Let in the Light
Natural light has so many health benefits. Your skin absorbs vitamin D from the sun, which is an essential vitamin that your body needs to strengthen your bones and help reduce the risk of heart disease and certain cancers. Light wards off the depressive feelings of winter when the days are shorter and you are stuck indoors more. By allowing natural light into your home, you'll save on energy costs from having to use artificial light, and you'll save by using the sun's rays to heat your home as well. You are also more productive, happier, healthier, and calm with natural light. Thus, by adding in an enclosed patio space, you'll be able to allow more light into your home for longer, capture its heating effects, and be an overall happier person all around.
Fend Off Mother Nature
Perhaps the biggest reason to enclose your patio space or add on an enclosed patio is to fend off the wrath of Mother Nature. From the bugs that threaten and annoy you to the spring showers that tend to come in the afternoons here in Northern Virginia, an enclosed patio allows you to enjoy Mother Nature without having to fight her. You can soak in the health benefits of the sun's rays without being directly exposed. You'll create a cleaner environment, especially in the fall when the leaves begin to fall and blow around. You'll create a space that will be functional the vast majority of the time without having to worry about what the weather is doing.
Enjoy the Outdoors While Indoors
For many of us, we like to enjoy the outdoors from the inside out. That is, we like being able to be "in" nature without having to be physically "in" it. This is especially true when the colder weather hits. You can sit indoors and watch the snow fall. You can enjoy the cooler fall days, sipping a cup of hot chocolate. You can read a book or watch a good movie at night when it's too cold, but still be a part of the natural world. This is a great way to stay safe as well.
Create an Additional Entertainment Space
It's always nice to be able to plan a party without having to worry about the weather, especially kids' birthday parties. When you have an enclosed patio space, you'll be able to invite friends over for afternoon tea, plan your child's birthday party, and have a game night. The functions for an enclosed patio space are unlimited. Whatever activity you enjoy doing, you can also do it on your patio. Another beautiful thing is you can have your outdoor grille or kitchen still outside, but side down in comfort and style inside. Being able to have both an indoor and an outdoor space opens up even more possibilities for your family gatherings and celebrations.
Add Value to Your Property
Any home improvement project offered by a home remodeling company such as Daniels Design & Remodeling in Northern Virginia will increase the value of your home, including an enclosed patio. Future buyers love to see these outdoor living spaces already added for them, making your home even more move-in ready. Your fireplace and TV spark visions of great future entertainment ideas in the minds of these potential buyers that can be the difference between your home and a similar one. In addition, an enclosed patio on your Northern Virginia home also increases curb appeal to those driving by. They also make your home look bigger, which increases its value as well.
Give Your Kids and Pets a Safe Place to Play
Depending on your backyard, it could hold hazards for your smaller children and your pets. Maybe your yard is not fenced, or you have outdoor landscaping features that could be dangerous, such as a pond. Maybe you can't lock your outdoor area, or your kids and pets may wonder off. Yet kids, dogs, and cats love to be outdoors in the fresh air. With an enclosed outdoor patio, you can have your kids outdoors, but you don't have to worry about them and you can still get work done around the house, like cook dinner or vacuum. With the popularity of catios and dogios, a real patio can serve the same purpose for your fur babies. Further, if you live in the country, your pets and kids will be protected from other animals as well.

CHOOSE DANIELS DESIGN & REMODELING IN NORTHERN VIRGINIA FOR YOUR PATIO DESIGN
Daniels Design & Remodeling offers decades of experience helping homeowners design and build the perfect covered patio for their outdoor space. By bringing a bit of nature indoors, you will enhance your life, feel healthier, and have a great functional space for years to come.
Daniels Design & Remodeling has a simple three-step process in order to give you the best patio remodel. First, we start with a feasibility study where we'll visit your home, get an idea of your outdoor space, and visit with you about your vision. Then we'll create up to three designs for you to choose from, and you can then offer your input as well. Once the patio design is chosen, we'll begin our pre-construction and planning phase, followed quickly by the build phase and completion. We'll keep you informed every step of the way with weekly updates, and we're always available to answer any questions. We'll do our best to work around you and keep the disturbances to a minimum.
No matter how big or small your patio remodeling project is, our team is ready. Our mission is for you to be 100% satisfied with the work we do. We offer a two-year warranty on all of our home remodeling projects, so if you find something down the road you need tweaked, give us a call. We specialize in affordable home remodeling projects, including kitchen and bathroom renovations that are designed to fit your budget and not go over. We understand that you have choices when it comes to home remodeling companies in Northern Virginia. Our award-winning team consists of experts in every field, from carpenters and masons to designers and project managers. Our initial consultation is free, so call us today and see if we're the right fit for you!