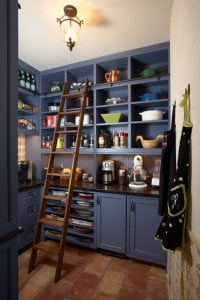 When the holidays arrive, food storage space is at a premium. That's why at the holidays and all year long, homeowners appreciate a well thought out kitchen pantry to make their lives easier. If you don't have a pantry, talk to your contractor about how you can create one in your home. Pantries are much more than just a closet for extra food these days. Check out some of these amazing pantry ideas to take your kitchen to the next level.
Shelving
Your dream kitchen has plenty of storage, and the pantry is where you can really maximize it. Traditional shelving can be mounted floor to ceiling, or above counter tops with storage below. Use clever storage options like pull out shelves in cupboards that let you use every inch of space, or slide out can storage that can be tucked next to a refrigerator.
Lighting
Lighting is key when designing your pantry. There is a huge variety of ceiling light options. Recessed lighting is a great idea in a pantry because it is streamlined and unobtrusive. Have your contractor install cove lights mounted under shelves or under cabinet lighting so you can find exactly what you need. Track lighting and rail lights also work well in pantries.
Special additions
Think outside the box when it comes to multi-purposing your pantry. You can designated an area as a coffee station, modeled after your favorite bistro. A sink can be installed in a pantry to create a wet bar, or to have a designated flower arranging station. You may even be able to tuck in a children's craft area. Get creative with your pantry ideas and you will have a great addition to your kitchen.
The humble kitchen pantry can be much more than just a space for storage. They can be a fantastic part of your Northern Virginia kitchen remodeling project. Its the perfect time to let your imagination run wild and use this extra space to its full potential. Call the designers at Daniels Design and Remodeling to talk about creating your dream kitchen for the holidays and all year long.