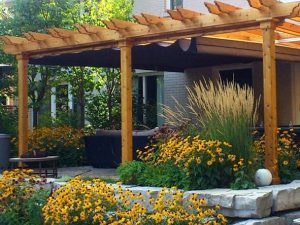 What could be more delightful on a hot, Southern summer day than to sit in the cool shade of your very own pergola. Pergola's are wonderful additions to any deck or patio. They add beautiful visual interest and serve the very practical purpose of providing shade to your property.
Pergolas are an outdoor feature that forms a shaded sitting area or walkway, and is made of vertical posts that support cross beams or lattice. They come in many shapes and sizes and can be created out of a variety of materials. The word pergola is from the Latin word pergula, which means "projecting eave".
The designers here at Daniel's Design and Remodeling will help you select the right size and spot for your pergola. Today, pergola's can be made of weather resistant wood, or more low maintenance alternatives like CPVC, vinyl, fiberglass or aluminum.  Popular choices include pergolas that are made out of red cedar and stained to add rustic beauty to your outdoor space, or they can be painted to match the rest of the house. Curtains and shades can be mounted to help beat the heat, and you can also build a shade into the top of the pergola that can be opened or closed depending on the weather. Some homeowners will choose to plant a climbing vine on their pergolas like Jasmine, which provide shade, beauty and an intoxicating aroma.
Daniels Design and Remodeling specializes in created beautiful outdoor spaces that your family will enjoy for years to come. Pergolas are always a wonderful addition to your outdoor living area. Talk to us about designing your perfect pergola to beat the Southern heat, and soon you will be enjoying time with family and friends under its cool, welcoming space.