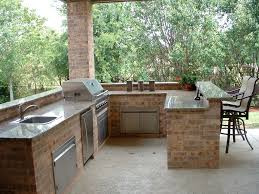 If you're like most people, your patio or deck has become the main hang out area for the family. Enjoying the outdoors is part of what makes Northern Virginia living so fantastic. Your outdoor living space is an important part of the household, and many families are deciding to take things to the next level by adding full outdoor kitchens and bars. This expands your living space, and also adds functionality, beauty and value to your home.
When you are discussing your plans for your dream outdoor space with our designers at Daniels Design and Remodeling, we will show you an incredible number of options for a bar and kitchen area. Choosing the location on your property is the first step. The entertaining area can be placed directly off the house, as a free-standing, shaded island, or you can choose to have an entirely separate small building that houses your outdoor entertaining area. Our designers will come to your home, analyze your site and help you choose the ideal layout.
Choose building materials that match the exterior of your home for a seamless look. When it comes to appliances, grills and gadgets, the sky's the limit. Plenty of counter space, an outdoor sink, under-counter refrigerators and of course a beautiful grill are all important features. Add a flat screen TV and you've got the perfect spot for hanging out with family and friends, enjoying the beautiful weather and each others company. Summer barbecues, family celebrations and just regular evenings hanging out with the family become even more enjoyable.
Contact Daniels Design and Remodeling to start planning your new outdoor living area. We will help you decide on the placement of your bar and kitchen area, go over all of your options, and will incorporate all the elements into the overall design of your home. The design process is fun and includes picking out all the features you want like appliances, fixtures, lighting and building materials. Soon you will have the pleasure of seeing your ideas and our expertise come to life in the outdoor living area you've always dreamed about. Call us today to start the conversation.