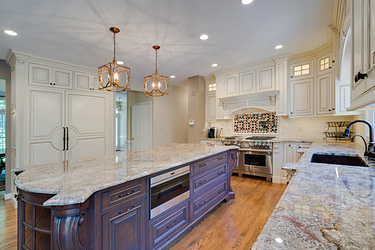 You've decided to renovate your kitchen, and the basics are covered. New flooring, beautiful new counter tops and new cabinetry will definitely be part of the plan. Most homeowners also include a generous kitchen island with plenty of storage and work space, and new lighting fixtures. Today, Northern Virginia kitchen renovation projects are also including new twists on your standard appliances that add both beauty and convenience.
White is the new stainless.
White appliances are making a comeback, edging out stainless steel that has been the kitchen favorite for so many years. White stoves, ovens, refrigerators and dishwashers have a timeless, classic look that goes perfectly with white cabinets which are still the most popular choice. Some kitchen renovations take it even further with white back splashes and tile that make the room feel more open and airy. Designers agree that you can't go wrong with white.
A drawer that is also a microwave.
You've probably heard of the concept of drawers that are actually smaller refrigerators, but what about a drawer microwave? These are a new trend that is definitely here to stay. Microwave drawers are installed below counter height to make them accessible to everyone in the family while not taking up valuable counter space.
Side opening ovens
Wall oven that open on a side hinge instead of a bottom hinge are the latest thing. This is a universal design element that makes sense for everyone, making it easier to slide food in and out. Of course, this is a must if anyone in your household is in a wheelchair or has any other accessibility issues.
When planning your Northern Virginia kitchen remodeling project, talk to the design team at Daniels Design and Remodeling about all your appliance options. Bringing classic white back into the kitchen, drawers doing double duty as microwaves and refrigerators and side opening ovens are just a few of the new appliance trends that will bring your kitchen up to date. We are here to help you with every step of your project, and we will introduce you to all the latest Northern Virginia kitchen remodeling trends!